Last Updated on May 16, 2021 by Kaden
If you have a combination skin type and you are a bit nervous about your winter skin care routine, this post is for you.

So what does it mean, combination skin? well, it's complicated, because it's different for each one. In general, Imagine your face as a map, you have dry areas, oily areas, and normal ones (perfect moisture for the climate).

In my case, in the summertime, my face is oily, with dry spots under my eyes, and in the winter my facial skin is Dry – Normal, with an oily forehead and breakouts. It's annoying! however, it could be a lot worse.

So, Without further ado, I introduce you to my own winter skin care routine for combination skin and how to manage dry and oily areas in the cold weather.
I hope you like these products! Just so you know, i may receive commissions on purchases made from the links on this page. Thank you if you use our links, i really appreciate it!
Morning Winter Skin Care Routine for Combination Skin
---
STEP 1 – Clean Your Face
I believe that each person has a unique skin type, and I know that for some people washing the face in the morning, with only water, works the best for them.

For me this step is extremely necessary, even in the wintertime, otherwise, I'm getting breakouts. So whatever you're feeling on facial cleanser in the morning I have a couple of guidelines:
1) Figure out if cleaning your face with a cleanser in the morning is the best step for you.
2) Use Lukewarm Water – this is true all year round, but especially in the winter.
Hot water damages your skin barrier and dries it. I know it feels good but you shouldn't do it.
3) Use Cleansers that get the job done – You will need a cleanser that is Hydrating, but strong enough to get rid of all the product you layered the night before.
Unlike a skin care night routine, in the morning I recommend you use sunscreen that will add some moisture to your skin.  
* I use, and highly recommended – COSRX Low pH Good Morning Gel Cleanser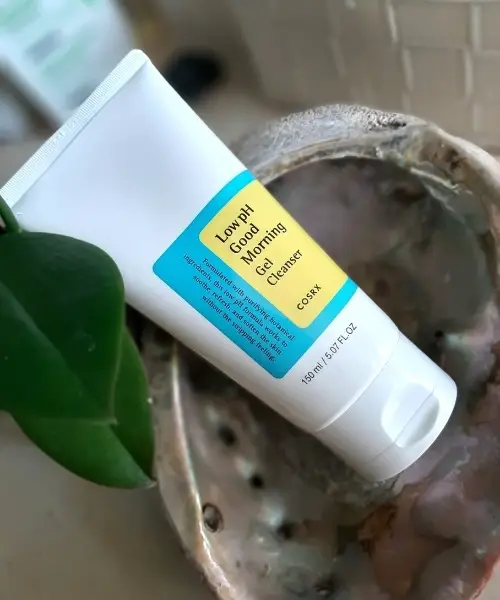 STEP 2 – Add Hyaluronic Acid To Your Skin Care
Hyaluronic Acid, naturally found in the skin, helps cells retain moisture from the environment. It hydrates your skin, makes it appear healthy and smoother.
This hydrating serum is a must-have in any winter skin care routine, for any type of skin.
* I'm using The INKEY List Hyaluronic Acid. An affordable and really great product.
STEP 3 – Niacinamide Serum for Combination Skin
Niacinamide (vitamin B3) serum is a wonderful skincare ingredient that your skin needs for it to look its best. With consistent use, it will improve uneven skin tone and skin texture, soften fine lines and wrinkles, minimize the visibility of pores, and reduce any environmental damage.
Why is vitamin B3 important for a winter skin care routine? Well, it is important for any skin care routine, and what makes it great for winter is the ability to renew the surface of the skin against moisture loss. Moreover, for us, those with mixed skin it helps by balancing the oil production of the skin. 
* I have two great recommendation for Niacinamide Serum:
1- For more sensitive skin – InstaNatural Niacinamide 5% Face Serum
2- For acne-prone skin – The Ordinary Niacinamide 10% + Zinc 1%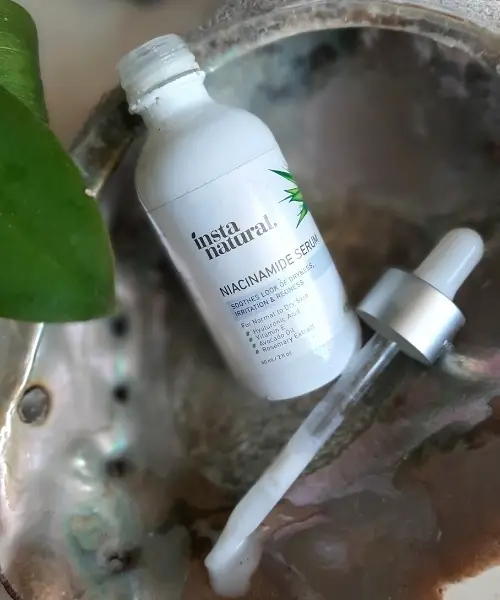 STEP 4 – Light Moisturizers Goes a Long Way
I don't know what about you but heavy moisturizers are a bit much for my combination skin, especially in the morning. I prefer to apply oil to the dry spots (I will get to it later) and use a light and hydrating cream that makes my skin look plumper, or, more vivid.
* I love this product – Simply Water Boost Hydrating Gel Cream, and it is not because of the price (which is really great!). It is light, very hydrating, and doesn't irritate my skin.
STEP 5 – Don't Forget About Sunscreen
Applying sunscreen is the most important and obvious step in the morning routine. The winter can be misleading and make you think that the sun is not there, however, it's a misconception.
The radiation is definitely there as sun rays reflected from everywhere including the snow and projected right to our faces.
* Check out this post – Best Sunscreens for Oily Skin
Night Winter Skin Care Routine for Combination Skin
---
STEP 1 – Double Cleansing Method
"Skin Care" gurus swear by the double cleansing method, and after using it myself, I understand why.
What is the double cleansing method?
Start by removing all of the dirt, sunscreen, moisturizer, and makeup with a cleansing oil/balm (Or use an organic oil, like, Jojoba or Argan) followed by your favorite, water-based cleanser.
Why is this process so important in the wintertime? In my experience, starting with oil before using a cleanser makes the cleanser less hard on the skin and helps me deal with dry spots on my face. 
* A good Cleansing Oil Palmers Cocoa Butter Skin Therapy Cleansing Oil
The second cleanser I use for the winter season – CeraVe Hydrating Facial Cleanser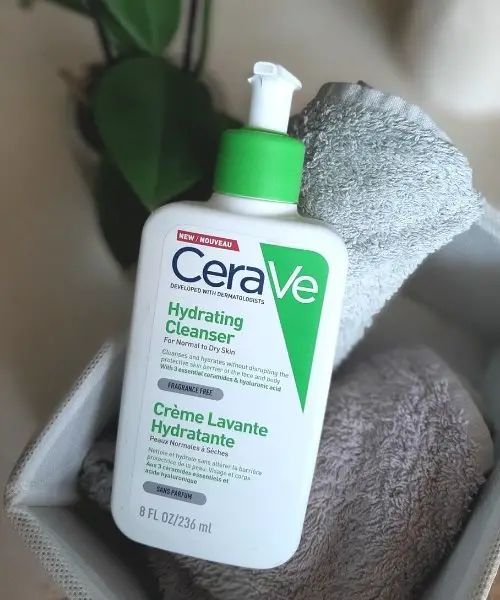 STEP 2 – Winter is The Perfect Time for Retinol Serum
Retinol (vitamin A) serum makes your skin more sensitive to the sun therefore is ideal for wintertime facial care. It's anti-aging superpower placed it as a must-have ingredient in my skin care routine.
This amazing ingredient is known not only for its ability to diminish the appearance of fine lines and wrinkles. It's also been shown to assist increase collagen production and to improve skin texture, and reduce dark spots.
* A great retinol product – CeraVe Anti Aging Retinol Serum and The Ordinary Retinol 0.5% in Squalane
STEP 3 – Apply Vitamin C Serum
Vitamin C serum is an amazing ingredient and so important, especially in the winter. Since the cold weather makes our facial skin dull and dry, vitamin C serum will bring your face back to life, and give it a beautiful natural glow.
In addition to its brightening benefits, vitamin C is also antioxidant and anti-inflammatory, these two benefits help sensitive, dry, red, and itchy skin caused by the winter dry air. It will help soothe the appearance of acne and reduce inflammations.
* If you are looking for an oil-based vitamin C serum, I'm currently using this – The Ordinary Ascorbyl Tetraisopalmitate Solution 20% in Vitamin F
** You can find out more on Vitamin C Serums products in this post – Top 5 Vitamin C Serum Under $20
STEP 4 – Heavier Moisturizers
In the winter your skin will need a bit more nourishing. Using heavier cream may be necessary for combination skin types, however, you should skip the oily areas that are prone to breakouts.
* A classic and a great option is – CeraVe Moisturizing Cream
Additional Tips for Winter Skin Care Routine
---
1} Use Oil for Dry Spots
Pick a heavy natural oil and apply it on dry spots a couple of times a day and in a few days, the dry spots will disappear. The best oils for dry skin are Avocado oil, Castor oil, and Argan oil.
2} The Winter is Ideal for Chemical Exfoliation
Since the peel raises the skin's sensitivity to the sun, winter is the ultimate time to experiment with new products and repair your skin damages.
Remember – apply chemical exfoliators (acids) only at night and skip all active ingredients (serums) that night.
* A great chemical peel product – The Ordinary Peeling Solution 30ml AHA 30% + BHA 2%
and Paulas Choice-SKIN PERFECTING 2% BHA Liquid Salicylic Acid Exfoliant