Last Updated on May 16, 2021 by Kaden
REN Ready Steady Glow Daily AHA Tonic is a gentle yet powerful formulation to brighten and cleanse skin in the form of a toner. Below, you'll find out more about this exciting skincare product, how to use it, and what it can do for you.
Related Posts:
REN Ready Steady Glow Daily AHA Tonic – Product Overview
Ready, set, glow! That's the idea behind REN AHA Tonic. It promises to get skin glowing without irritation. It also claims to brighten, re-energize, cleanse pores, reduce breakouts and make pores look smaller. But does it live up to those promises?
It certainly has the ingredients needed to make that happen:
1- Lactic Acid (AHA) from Yeast
Lactic acid, a type of AHA, is used in this formulation. It provides gentle exfoliation to remove pesky dead skin cells from dulling the complexion, smoothing skin texture in a non-irritating way. It is far gentler than glycolic acid, one of the most common AHAs.
2- Salicin (BHA) from Willow Bark Extract
Pores can never shrink once they enlarge, but you can make them look smaller. With this BHA, it helps dissolve buildup inside pores. This helps them look tighter, creating smoother-looking skin.
3- Azelaic Acid from Grains
Known for promoting radiance and an even skin tone, azelaic acid is a key ingredient in this formula. It helps lighten up hyperpigmentation and scars, bringing skin to a brighter and healthier condition.
Instructions for Use of REN Ready Steady Glow Daily AHA Tonic
REN Ready Steady Glow Daily AHA Tonic is a toner that is easy to use after cleansing. Here's how to use it for your best results:
1. Grab a cotton pad or reusable cloth and saturate it with REN AHA Tonic.
2. Gently swipe it on your face and neck.
3. Take caution to avoid your eyes.
4. Can be used daily, though sensitive skin types should use it only once or twice a week after cleansing.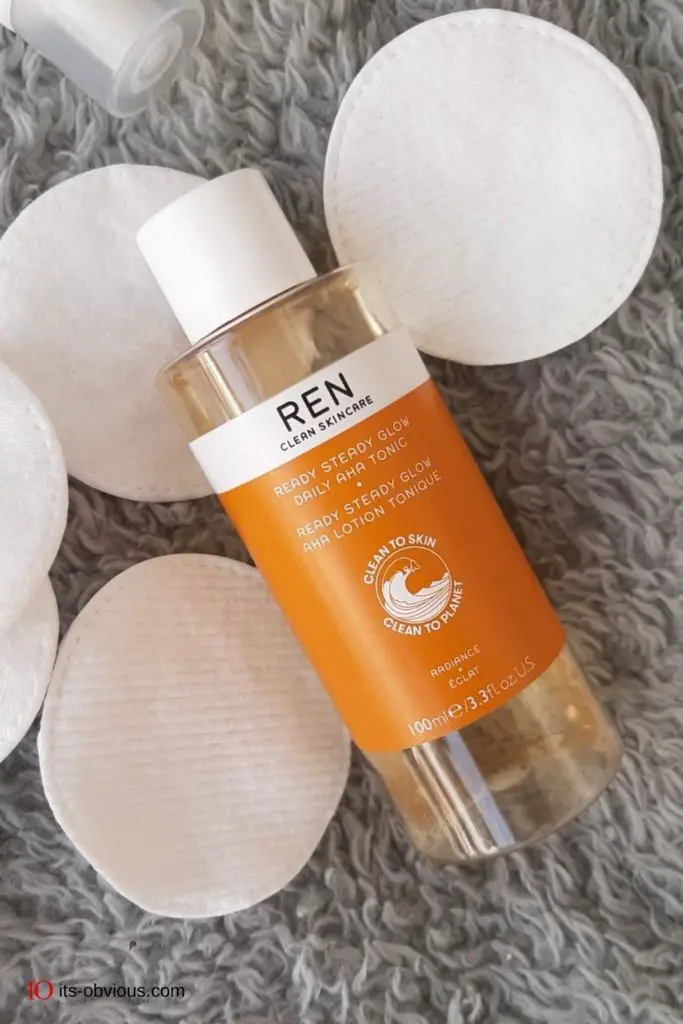 Who is REN Ready Steady Glow Daily AHA Tonic for?
REN Ready Steady Glow Daily AHA Tonic is for all skin types. However, it will give the best results to anyone that has combination, oily, or congested skin. Additionally, if you've tried glycolic acid products before and found them too irritating or want to try an exfoliating toner, this is a great product to go with because it is gentler than other AHA options.
What to Expect
When you use this tonic, you can expect to see skin that looks refreshed and exfoliated. In addition to clearing away dulling dead skin cells, you'll see brighter, tighter, and more hydrated skin. It looks energized, even, and glowing without any irritation. Skin feels comforted rather than tight and dry, a perfect solution for problematic skin.
Pros:
Gentle on your skin
Provides exfoliation for a brighter, more radiant appearance
Ideal for clearing congestion and blemishes
Smart product packaging
Refreshing citrus scent
Reasonable pricing
Cons:
It may be too drying for non-oily skin types when used every day
May cause a stinging sensation
Frequently Asked Questions
– Can I use REN toner every day?
Yes, however you should use sunscreen during daylight hours as AHAs make your skin more sensitive to sun exposure.
– Should you use it with retinol?
Retinol is one of the best nighttime ingredients for skin. With AHAs and BHAs, you should never combine them with retinol at the same time. It's ideal to wait at least 30 minutes after using REN Ready Steady Glow AHA Tonic at night before applying any retinol.
Price: 
$20 (Travel Size: 3.3 Fl Oz, 100ml)
$38.00 (Full Size: 8.5 Fl Oz, 250ml)
I advise you to try the travel size first, and patch test before applying all over the face.