Last Updated on September 19, 2021 by Kaden
Our body is one unit and each part affects the other, we all know that, but somehow we forget that our feet take the weight of the entire body, and it's comes with a price. To prevent the damages of a hectic day, which for many of us is every day, we need to maintain a foot care routine with good products. In other words, we all want baby smooth skin soft feet. And frankly, taking care of our feet it's a part of the daily routine I'm looking forward to.
Beauty Products for the Perfect Foot Care Routine
To be honest, I tried my best for you as always, so, in this article, you will find four topics for the perfect foot care routine products: Daily Routine, Weekly Routine, Monthly Routine, and Every Few Month Routine. In each category, for most products, I present two alternatives: affordable products and like spa more expensive products, so that everyone can enjoy beautiful amazing feet.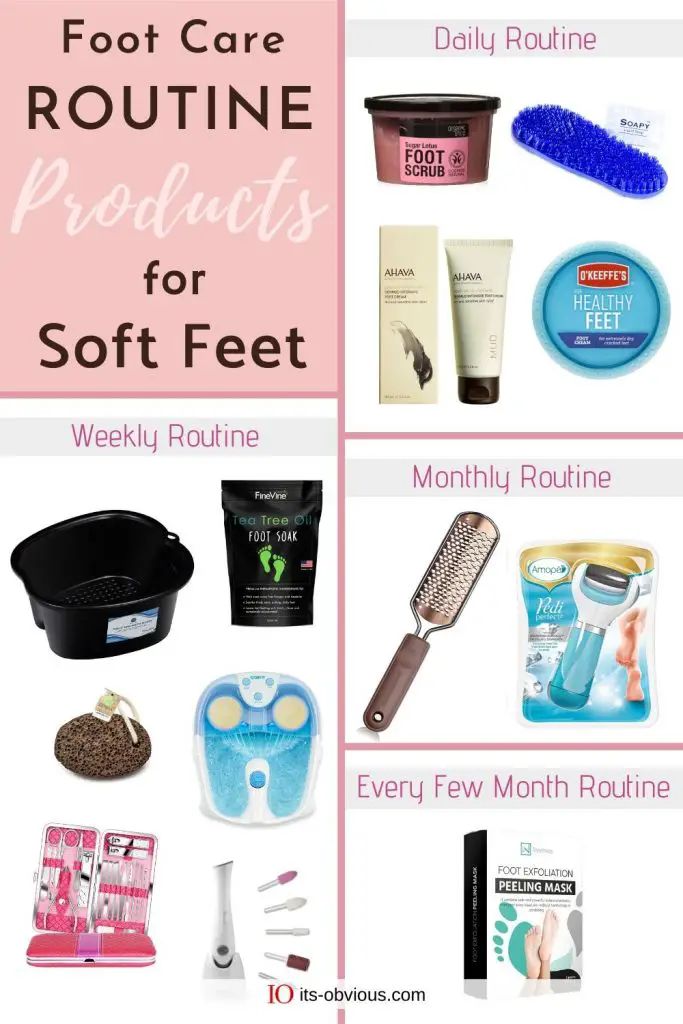 I hope you like these products! Just so you know, i may receive commissions on purchases made from the links on this page. Thank you if you use our links, i really appreciate it!
Daily Routine
Our feet like every organ in the body need daily maintenance. It's should be gentle and effortlessly. As a part of our daily grooming routine while we taking a shower, and in a way that does not burden us or take up a long time to maintain. This daily routine mainly focused on cleanliness, gentle scab, and adding lots of moisture to our feet.
1} Feet Cleaning
Price: $13.95
Shop on Amazon
2} Feet Scrub
Affordable Product–
This Unbranded all-natural and Vigan is such an amazing Straight forward product! A huge plus. Ingredients are sea salt, coconut milk, canola oil, walnut oil, coconut oil, sunflower oil, jojoba oil, and tea tree essential oil.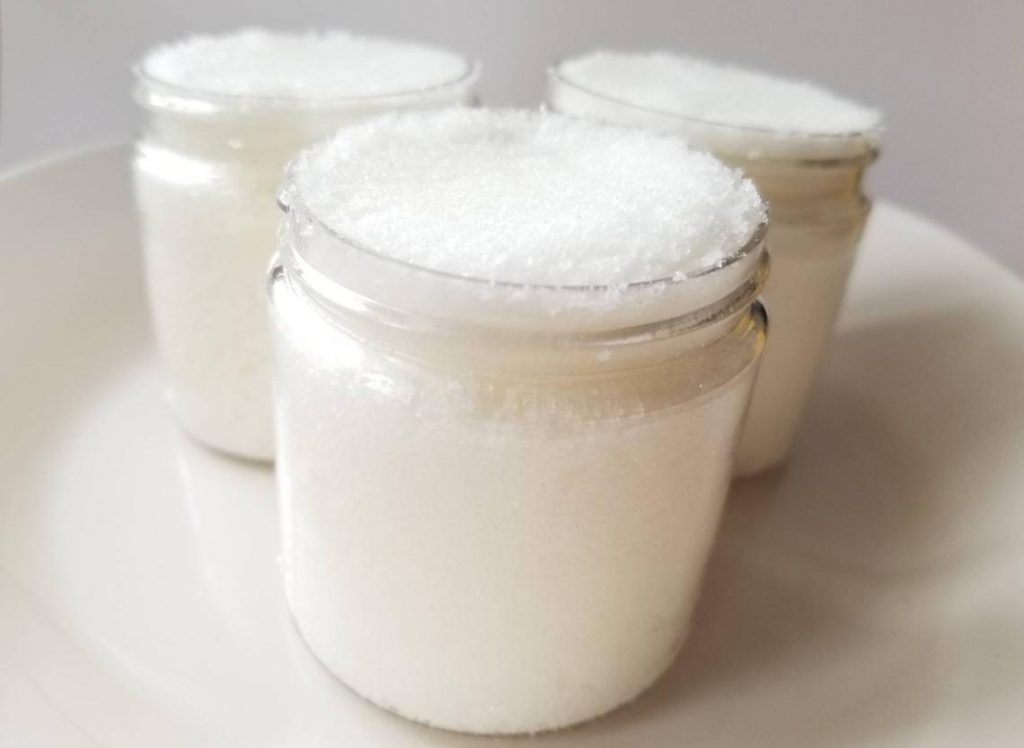 Spa-Like Product–
Helping you get rid of hard skin from the first use, renews, and moisturizes your foot skin and makes it feel smoother.
Price: $16.99 
Shop on Amazon
3} Moisturize
Affordable Product–
The heavy-duty of foot creams. It heals, relieves, and repairs extremely dry cracked feet with a protective layer that boosts moisture levels.
Price: $9.63 
Shop on Amazon
Spa-Like Product–
Much is said about the essential minerals found in the Dead Sea. This mixture of Dead Sea mud, minerals, and plant derivatives moisturizes blend brings its power into this foot cream product. Perfect for sensitive skin. It acts deeply to alleviate the itchiness, redness, and scaling of dry feet.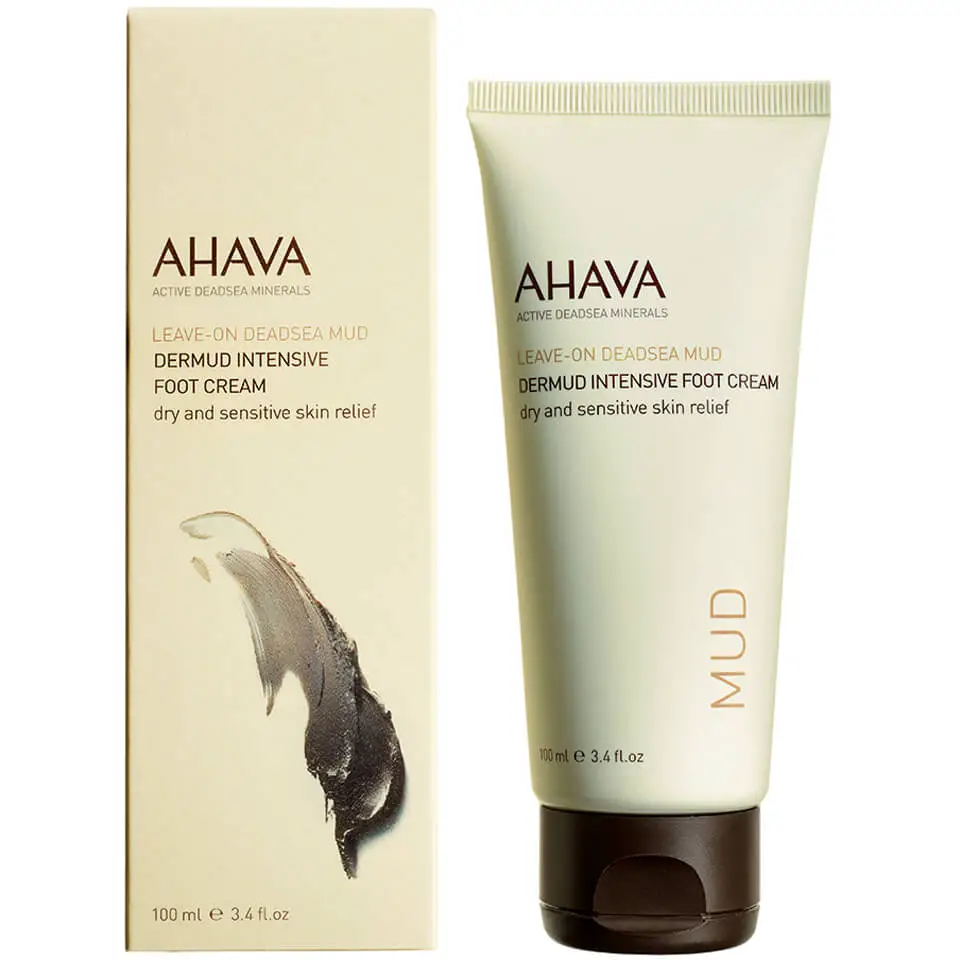 Price: $29.00 
Shop on SkinStore
You may also like:
* Top 5 Vitamin C Serum Under $20
* Best Sunscreens for Oily Skin
* Best Mascaras for a False Lash Look
* 10 Best Tools for a Spa Day at Home
Weekly Routine
---
Once a week, in my case, on a weekend, I pamper myself just a little bit more. This weekly routine is all about calming down and beautifying your feet. Make a hot foot bath with salt and oils blend foot soak while removing hard skin with a natural pumice stone. After drying your feet completely, take your time with a proper pedicure and finish it by applying nail polish on your pretty toes. Now you're ready for another amazing week with healthy, well-groomed feet.

RELATED: 10 Best Tools for a Perfect Spa Day at Home
1} Foot Soaking Bath
Affordable Product–
Price: $9.99 
Shop on Amazon
Spa-Like Product–
Lay back and relax, this active foot spa will do the rest. Activate bubbles, waterfall, and heat are working simultaneously with the scrub brush, pumice stone, and soft-touch massager, providing a real treat.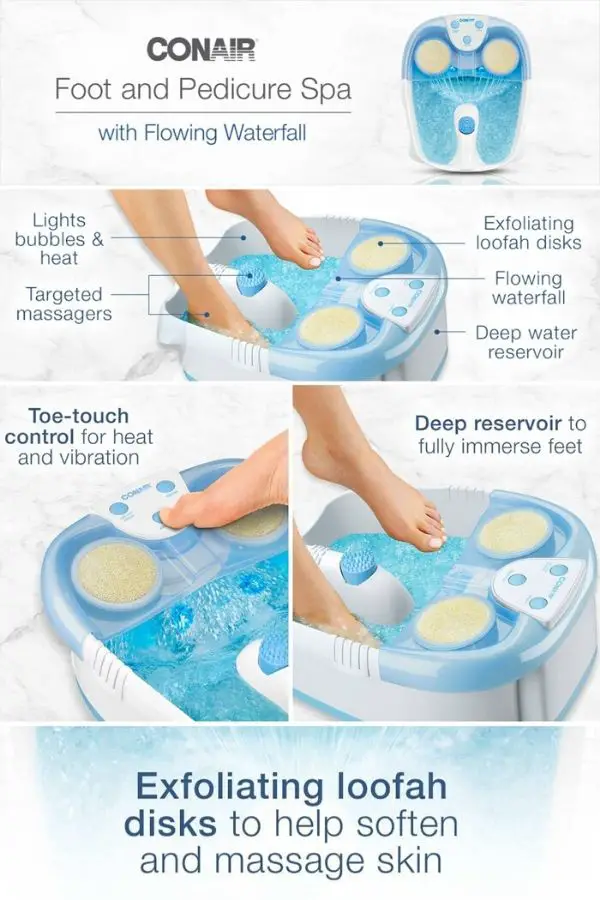 Price: $43.98 
Shop on Amazon
2} Foot Soak
Add this wonderful Tea Tree Oil Foot Soak with Epsom salt and pure Essential oils to your foot basin or active spa and treat unpleasant smells and nail fungus. It also relieves pain and soothes tired legs.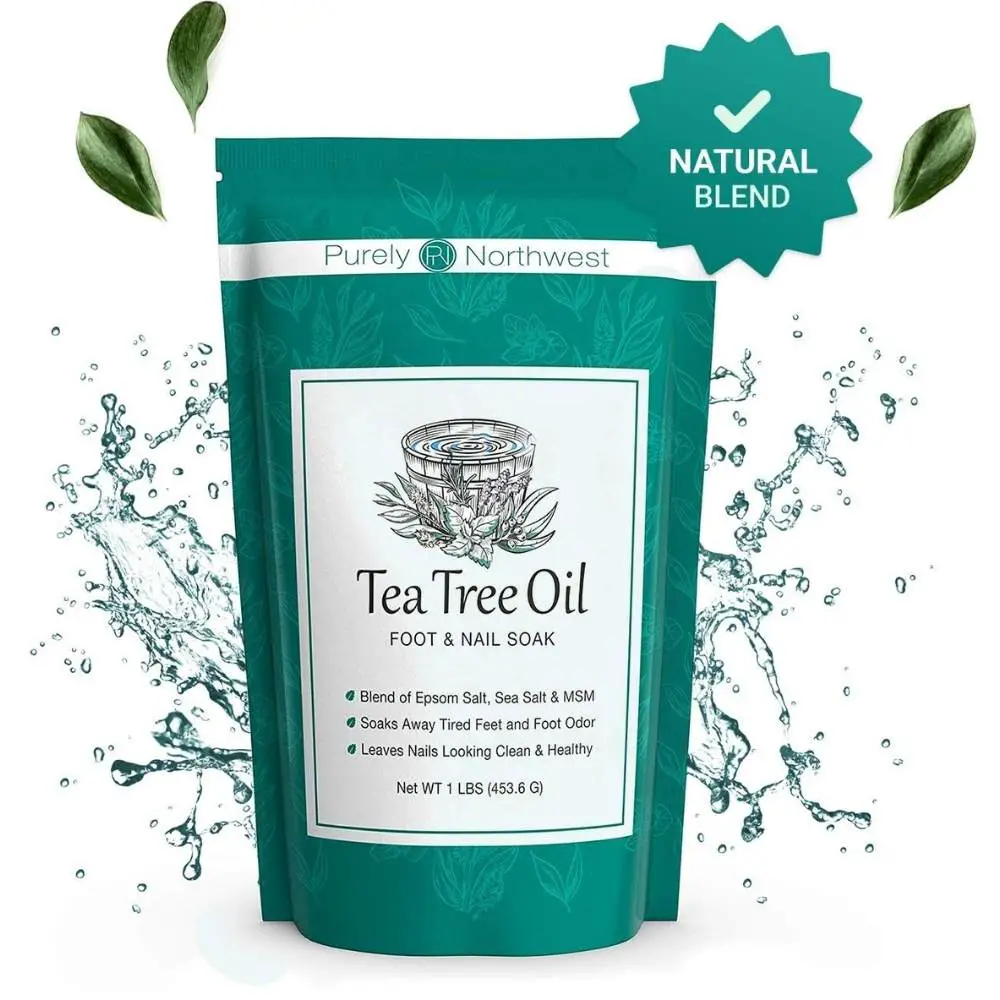 Price: $14.45
Shop on Amazon
3} Natural Foot Stone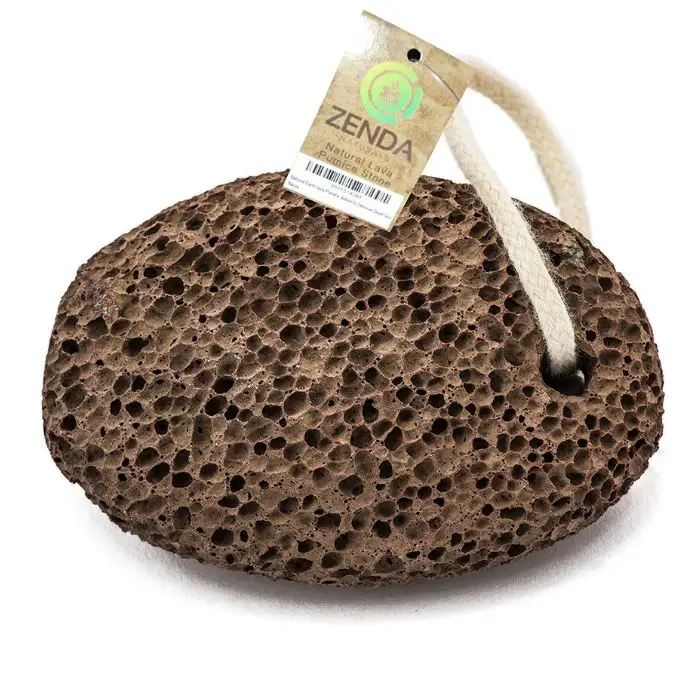 Price: $7.97
Shop on Amazon
4} Grooming Kit
Affordable Product–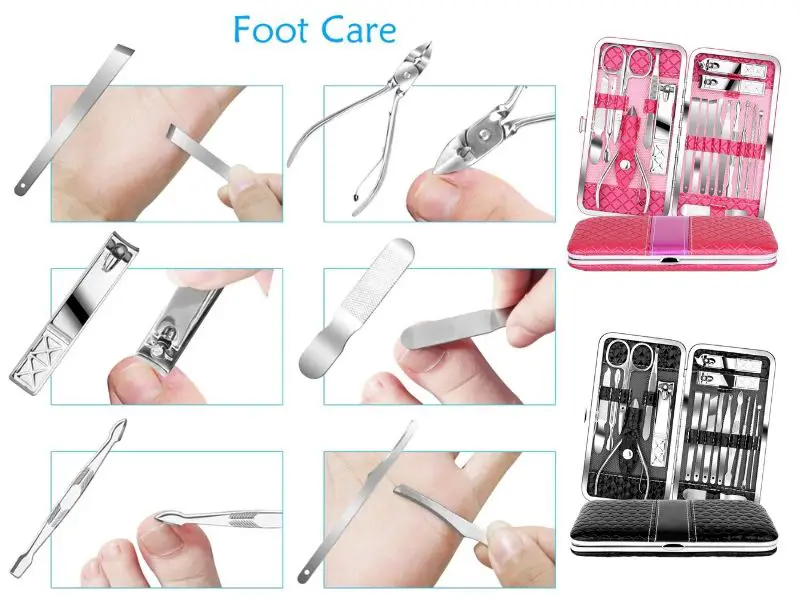 Price: $12.99
Shop on Amazon
Spa-Like Product–
It's so compact and sleek looking, comes with 5 attachments allowing you to remove excess cuticles or calluses, smooth dead skin, file, buff, polish, and shapes your nails. Everything you need to keep your toenails and fingernails shiny and beautiful.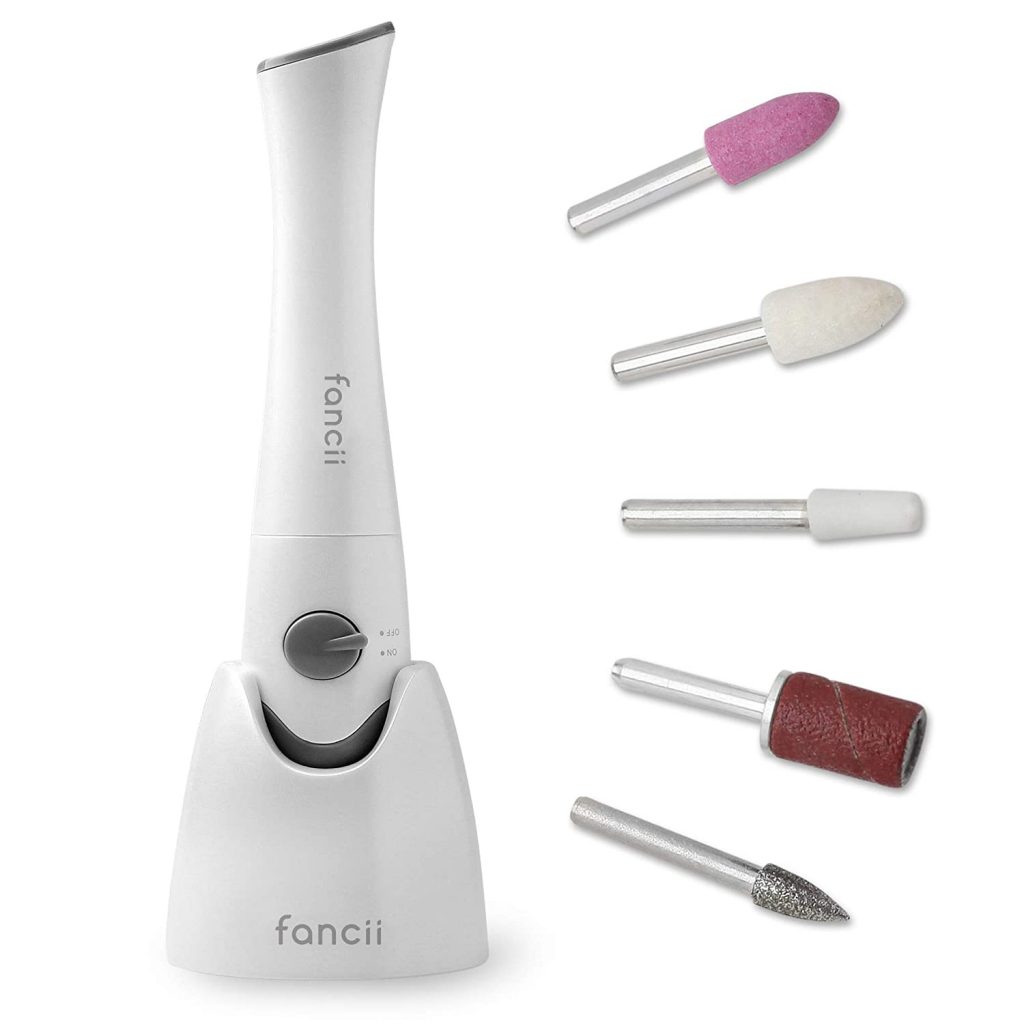 Price: $22.99
Shop on Amazon
Monthly Routine
---
In a once-a-month routine, we will work on removing the dry skin from our feet and making them much smoother, softer, and of course, prettier. The result can be achieved with the help of an electronic device or a less expensive, but still very effective, manual device. With this critical routine, It will be easy to maintain soft feet for a long time if we also persist with the daily and weekly foot care routine.
Feet Dead and Dry Skin Remover
Affordable Product–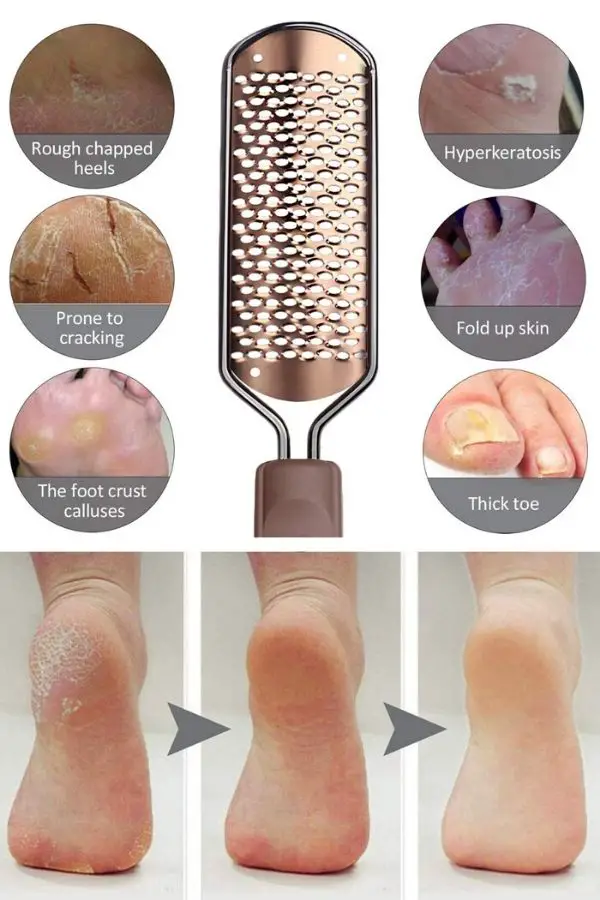 Price: $13.97
Shop on Amazon
Spa-Like Product–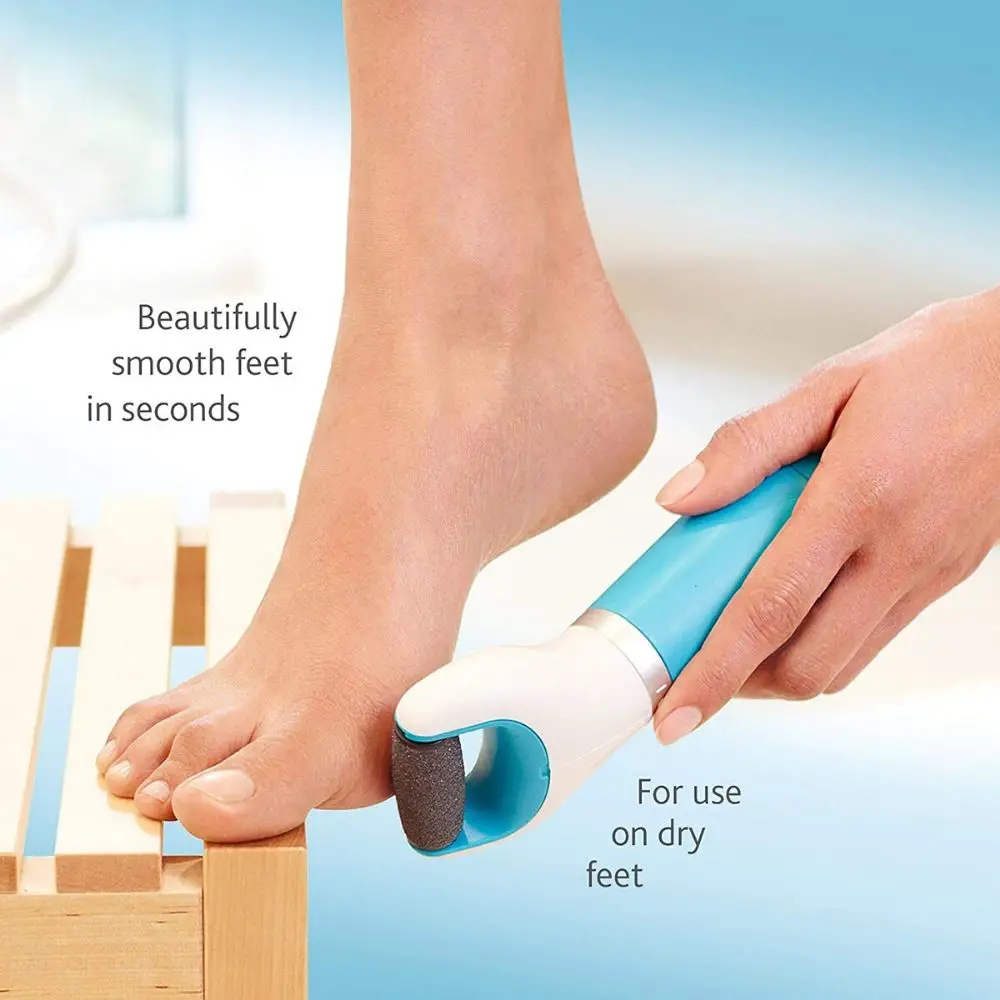 Price: $36.99
Shop on Amazon
Every Few Month Routine
---
For ultra-dry skin or if you just want a baby soft feet, every few months, pamper yourself with a peeling mask. It really is a treatment that only needs to be done once every few months on account of it is so strong and removes the entire layer of dead and dry skin.
Foot Peel Mask
All-natural ingredients and botanical extracts that are safe to use for Baby Soft Skin.
Tip: After applying consider soaking your feet in warm water every other day for a week. It will peel the dead skin quicker and more effectively.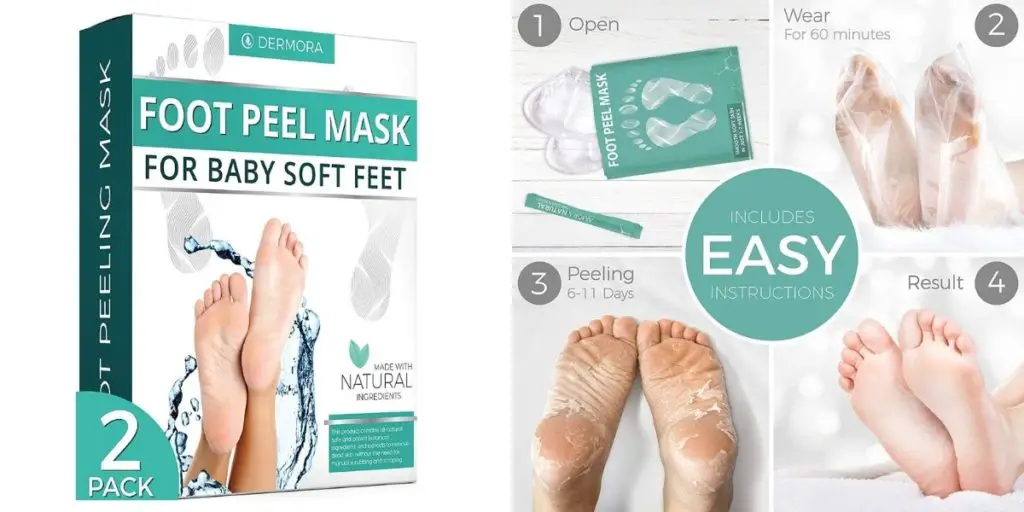 Price: $29.99 for 2 Pack
Shop on Amazon
Conclusion
Foot care can be very simple. Amazing results can be achieved by keeping your grooming routine and moisturizing your feet on a daily basis. It is important to note that all of the footcare routine products presented above are excellent. Beyond that, choosing an affordable product or spa-like product is less important than perseverance. In other words, the price of the product does not matter, as long as you maintain your grooming routine, your feet will always be stunning.
For More Inspiration on Foot Care Products – Click Here
*Hey, you guys! keep in mind, this post contains affiliate links. If you purchase a product or service with the links that I provide I may receive a small commission. There is no additional charge to you! Thank you for supporting my blog so I can continue to provide you with helpful tips for a healthy life (: