Last Updated on September 19, 2021 by Kaden
Much has been said about the role of vitamins we consume through food and their effects on our skin. What about taking vitamins and absorbing them directly through our skin? Vitamin C is one of the leading vitamins consumed.
The benefits of Vitamin C Serum for our skin are many. In general, it has a major role in the skincare routine. On the therapeutic side, the use of vitamin C serum can help to protect the skin against UV-ray damages, retain moisture due to its hydrating effect on the skin, help Minimizing redness, age spots, and melasma, promote collagen and, helps against fade pigmentation.
The truth is that there is a long list of benefits for using vitamin C Serum. Here are my Top 5 favorites vitamin C serum under $20.
I hope you like these products! Just so you know, i may receive commissions on purchases made from the links on this page. Thank you if you use our links, i really appreciate it!
Best Vitamin C Serum for Anti Aging, Skin Clearing, and Even Skin Tone under $20
The InstaNatural clime to be a natural and accessible skincare product harnessing botanical ingredients alongside scientific actives. Above all, This Vitamin C Serum with Hyaluronic Acid & Vit E aims to support healthy collagen to prevent signs of aging, help for brightness tone and smoothes texture for increased radiance. Smells lovely and soaks right into your skin.
Cruelty-free, without any synthetic dyes, and unsafe preservatives.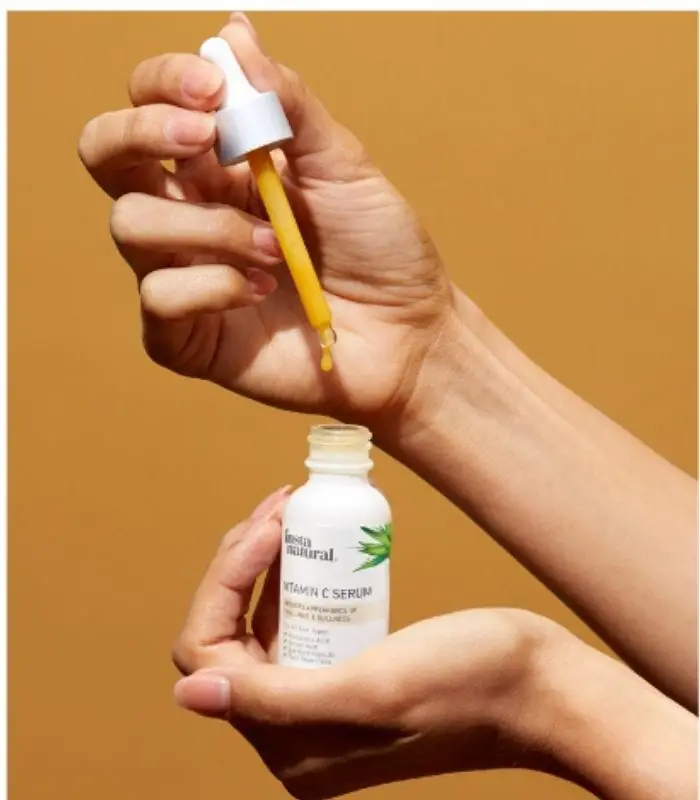 Price: $17.99 
Shop on Amazon
The Tree Of Life brand is committed to providing professional, "top-shelf" spa-quality facial products that help skin retain its youthful glow as a person aged. This Vitamin C Serum moisturizes and soothes the skin as it is applied, it's rich and creamy so only a drop or two is required per application. A Thick, Rich, Moisturizing Vitamin C Serum with potent vitamin C and "Super" skincare Ingredients such as Vitamin E, Jojoba Oil, and Witch Hazel for antioxidant protection aimed to reduce the look and feel of fine lines, wrinkles, and age spots.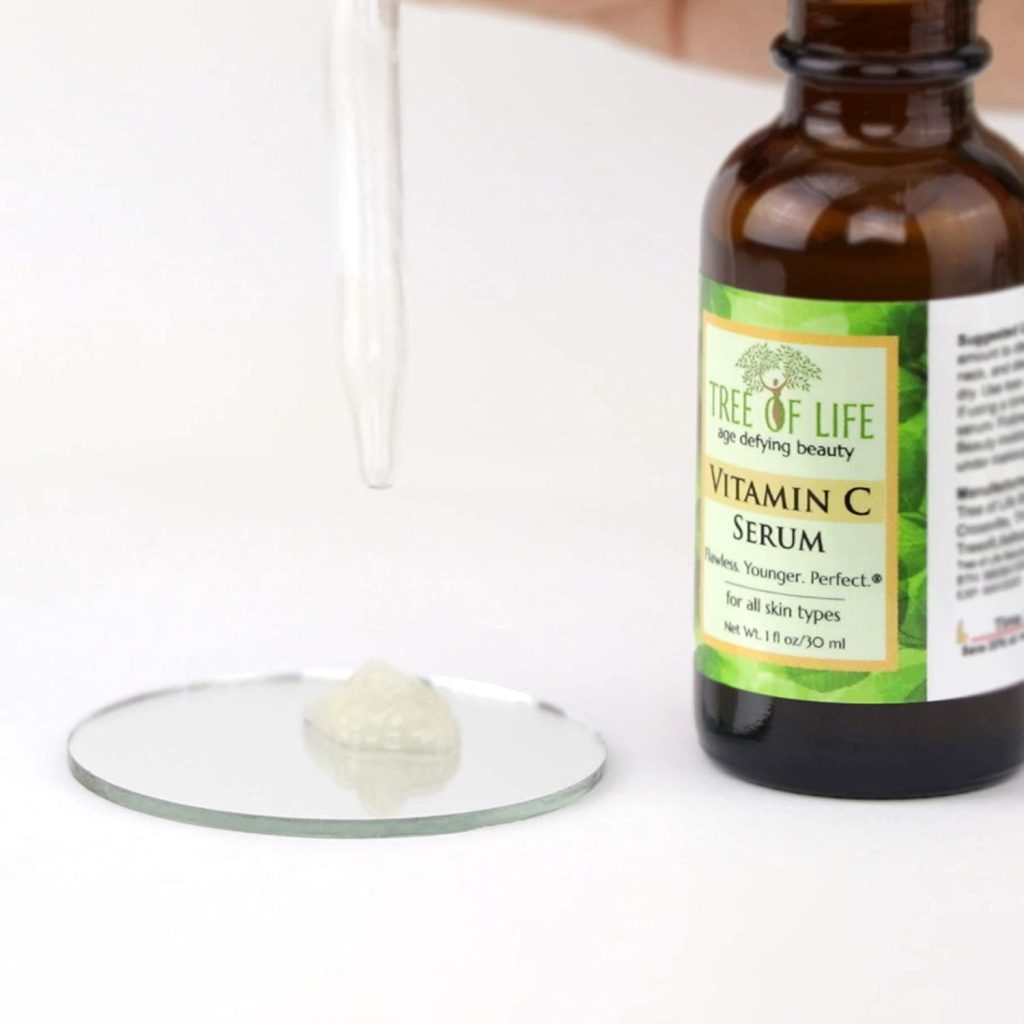 Price: $10.95  
Shop on Amazon
This Anti-Aging Serum is loaded with antioxidants that help protect against UV rays while repairing sun-damaged skin and supports healthy skin by naturally reducing inflammation and soothing troubled skin for an overall more even skin tone. works to cleanse the pores, thereby making them appear smaller with the exfoliating effects of Salicylic Acid.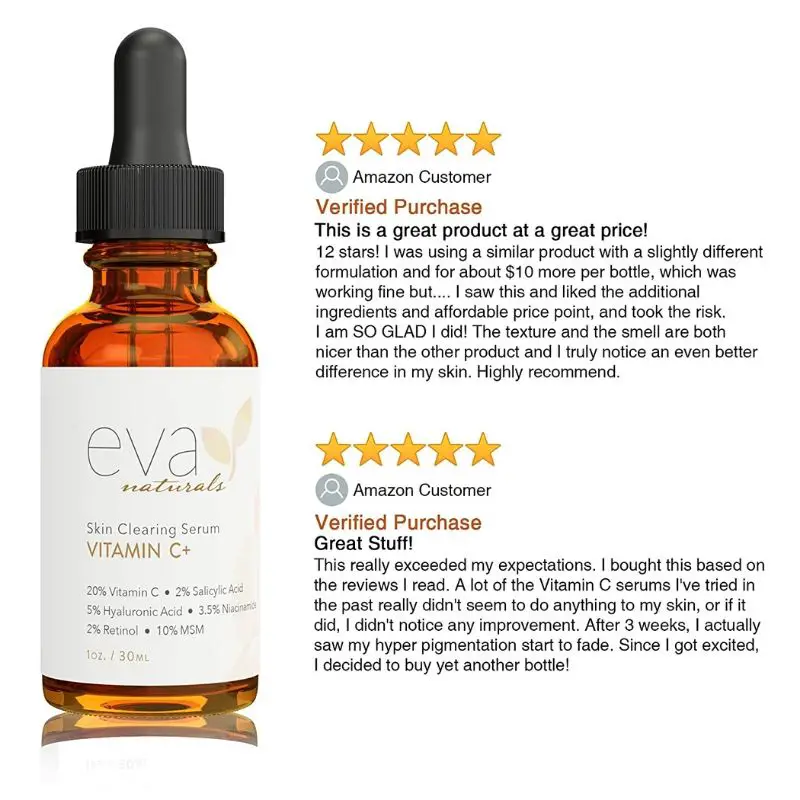 Price: $14.95  
Shop on Amazon
The lily-Ana Naturals Vitamin C Serum uses the highest concentration of pure plant-based and active therapeutic grade ingredients.
Promote clear skin and help control breakouts so you can achieve a clearer, smoother, and more flawless complexion without any parabens, artificial color or fragrance. In fact, this organic serum is a daily-use dark spot corrector and can be used around the under-eye area. It is gentle enough for sensitive skin and is non-comedogenic.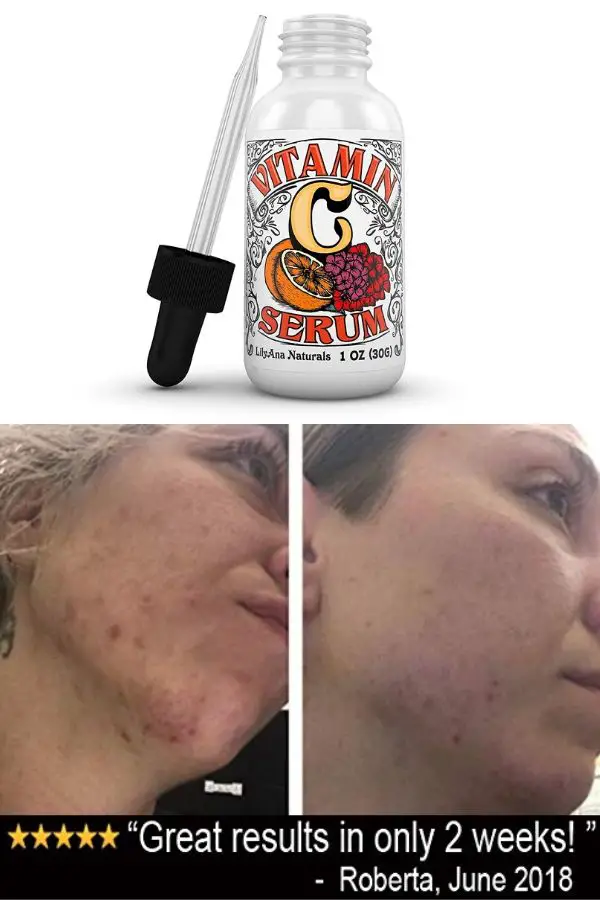 Price: $19.99  
Shop on Amazon
This Poppy Austin – Hyaluronic Acid Serum for Skin has, most of all, Vegan Certified. a Hyaluronic Acid with Vitamin C & Green Tea. Unlike other serums, its A delicate gentle facial serum, lightweight and formulated to absorb quickly. The purpose of this serum is to improve elasticity, hydrate, smooth and tone of your entire face and neck from within. Finally, according to the positive reactions it manages to get the job done and achieve Satisfaction results in a relatively short period.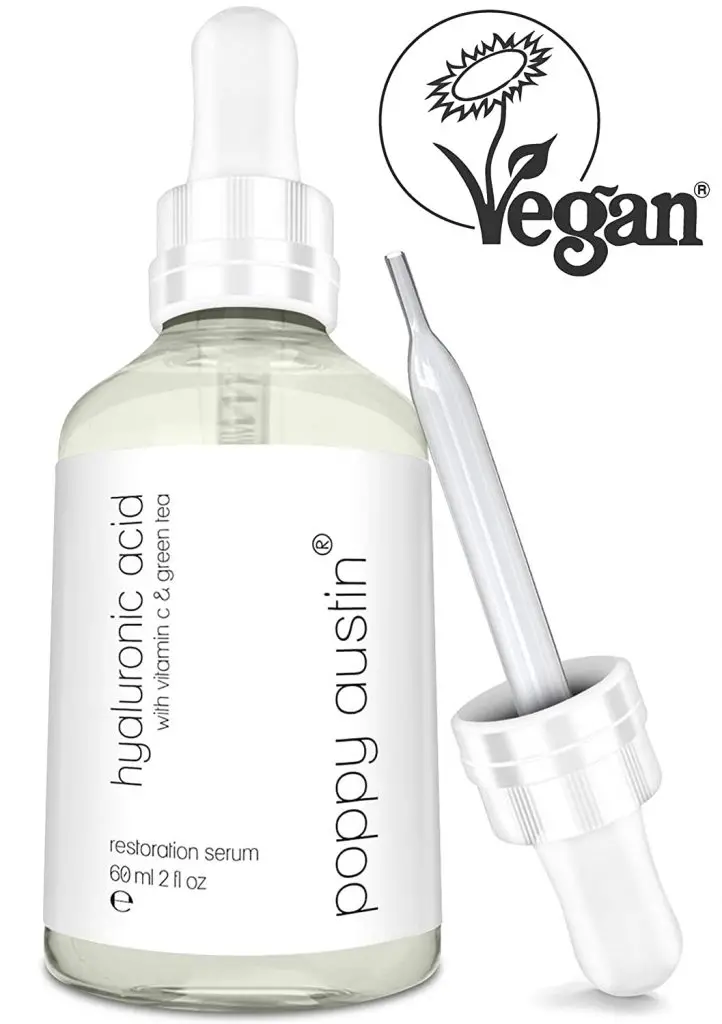 Price: $18.49  
Shop on Amazon
Hey, you guys! keep in mind, this post contains affiliate links. If you purchase a product or service with the links that I provide I may receive a small commission. There is no additional charge to you! Thank you for supporting my blog so I can continue to provide you with helpful tips for a healthy life (:
You may also like:
For More Inspiration on Skincare Routine – Click Here