Last Updated on September 19, 2021 by Kaden
Niacinamide has been growing in popularity as a do it all serum that addresses many skin concerns with just one product. The InstaNatural Niacinamide 5% Serum promises to target the signs of aging with its moisturizing properties, it diminishes breakouts by balancing oils naturally present in your skin, it can reduce the appearance of spots and hyperpigmentation, while also smoothing out fine lines and wrinkles. Sounds ideal to me, don't you think?
RELATED: Best Niacinamide Serums to Use for Your Skin Type
Read on to learn more about InstaNatural Niacinamide Serum, how to apply it and what benefits you can expect from using it.
InstaNatural Niacinamide 5% Serum – Product Overview
The InstaNatural Niacinamide 5% serum sets itself apart by containing a range of naturally derived ingredients making this product safe to use even on sensitive skin types.
Ingredients:
The key ingredients include Niacinamide (a form of Vitamin B3), Hyaluronic Acid, Vitamin E, Avocado Oil, and Rosemary Extract.
These ingredients work together to tighten the skin while keeping it moisturized. Vitamin B3 plays an essential role in regulating the oil in your skin, treating acne, protecting the skin from sun damage, minimizing hyperpigmentation, and reducing the appearance of fine lines and wrinkles.
With all these benefits, it's understandable why you'd want to add this product to your skin care routine!
And if that weren't enough, InstaNatural's mission is to create products that harness the benefits of botanical ingredients. Their products are made in the USA, are cruelty-free and no synthetic dyes or harmful ingredients are used in their formulations.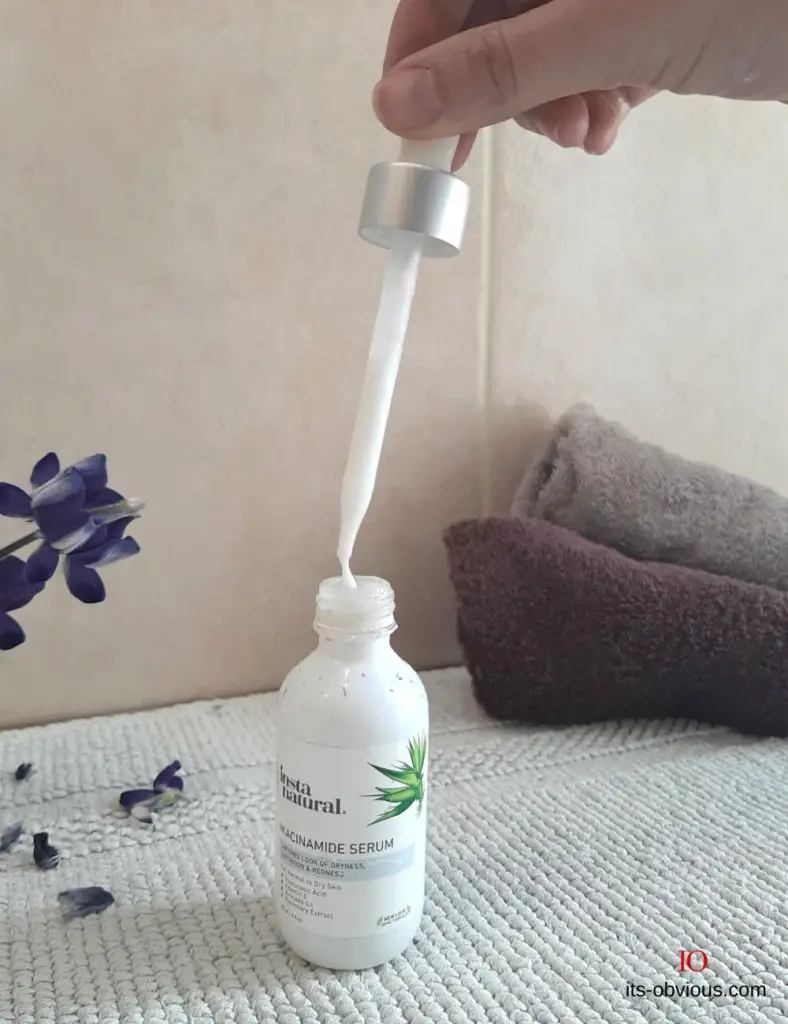 Instructions for Use of InstaNatural Niacinamide 5% Serum
Cleanse your skin as you normally would, pat dry, then apply drops of serum directly to the skin or drop 4-5 drops into the palm of your hands and massage gently all over. After the product has fully absorbed, follow with your favorite moisturizer.
Niacinamide can be used during your morning and evening skin care routine. When first starting out, I'd recommend using it once per day, preferably in the evening, to see how your skin reacts.
If you experience a burning sensation you should discontinue use.
Who is InstaNatural Niacinamide 5% Serum for?
I was excited to see that this formula can be used by all skin types, from dry to oily and even sensitive skin. However, I believe that normal to dry skin will enjoy it more and will see better results.
What to Expect
While using InstaNatural Niacinamide 5% regularly you can expect to see the following improvements:
A reduced occurrence of breakouts
Less visible acne scars
A diminished appearance of fine lines and wrinkles especially around the eye, mouth, and forehead area.
Plumper and firmer-looking skin
Reduced appearance of sun damage, inflammation, and hyperpigmentation.
Brighter, healthier-looking skin
Pros and Cons
Pros:
A powerful do-it-all formula that targets several skin concerns at once.
Made from naturally derived ingredients
Appropriate for all skin types
Cruelty-Free
Clean Ingredients
Cons:
May cause a stinging sensation when applied.
Can make skin feel tacky to the touch
Price: $16 for 2 oz (60 ml)
Final Thoughts
As a fan of Niacinamide products, I was excited to try one made with natural ingredients that are beneficial to all skin types. Overall, I was happy with the results and would recommend it to anyone looking for a do-it-all serum. Especially for those with dry skin.