Last Updated on December 21, 2021 by Kaden
Too many hair appliances and don't know what to do? It seems that we all have a brush for everything, a hot tool for every size or curl, and variations of straightening irons for every kind of bend and flatten. If you're anything like me, you probably have less creativity with your hair, and more tangles of cords in your cupboards.
There are, however, so many ways to solve this problem! Helpful racks and trays can keep you organized, and your cleanup streamlined so that you can quickly and easily clean up your hair care mess. Getting ready should never feel like a chore, if you feel that way too, then hair tools storage cabinet can help remedy that.
You may also like:
I hope you like these products! Just so you know, I may receive commissions on purchases made from the links on this page. Thank you if you use our links, I really appreciate it!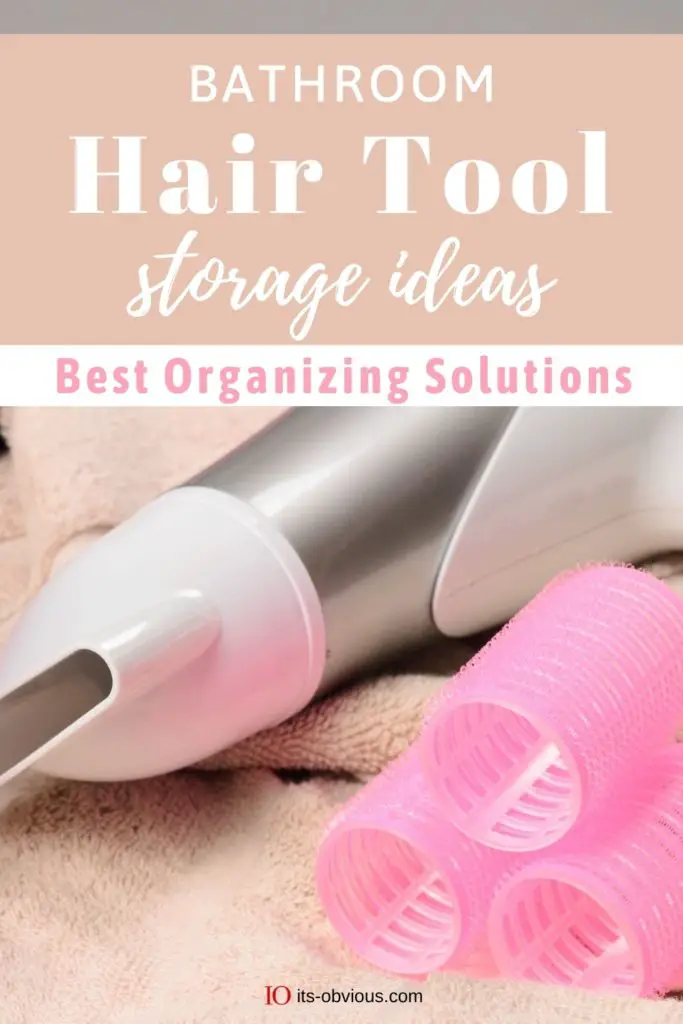 8 Hair Tools Storage Cabinet Ideas To Consider for Organizing Your Bathroom
So, as always, I scanned the web in search of the perfect solution for storing and organizing my hair tools. I found plenty of beautiful and practical products, from a storage drawer dedicated to hairdryer and curling Iron, hanging rack organizers, a storage box for your hair accessorize, and a cabinet door mount to keep everything in place.
This is a great organizer for all of your tools including flat irons, curling irons/wands and brushes. It is easy-install and makes great use of the unused space in your bathroom. Getting the items out of your cupboard and also off your counter can reduce clutter and make your space feel bigger.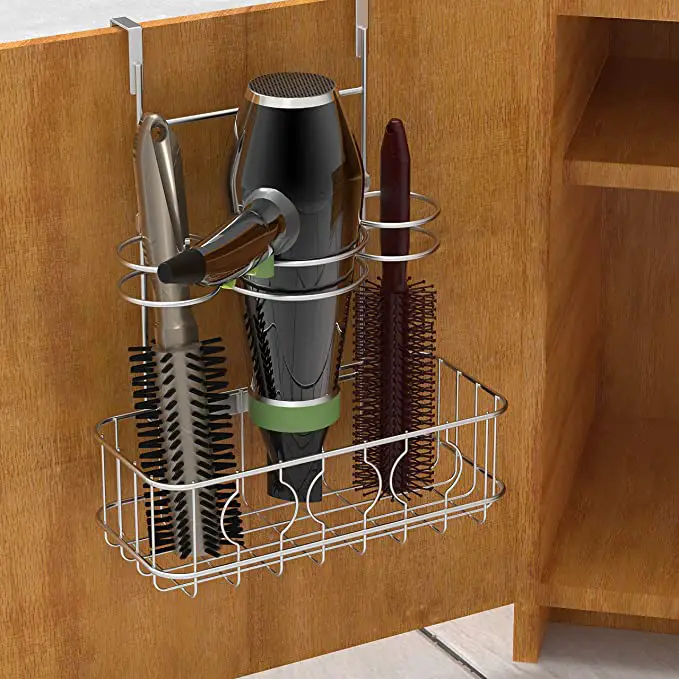 Shop on: Amazon
Here is a version of the simple-style caddy, except this one is especially designated for your cupboard interior. There are plenty of ways to use dead space, but this is definitely one of the most efficient.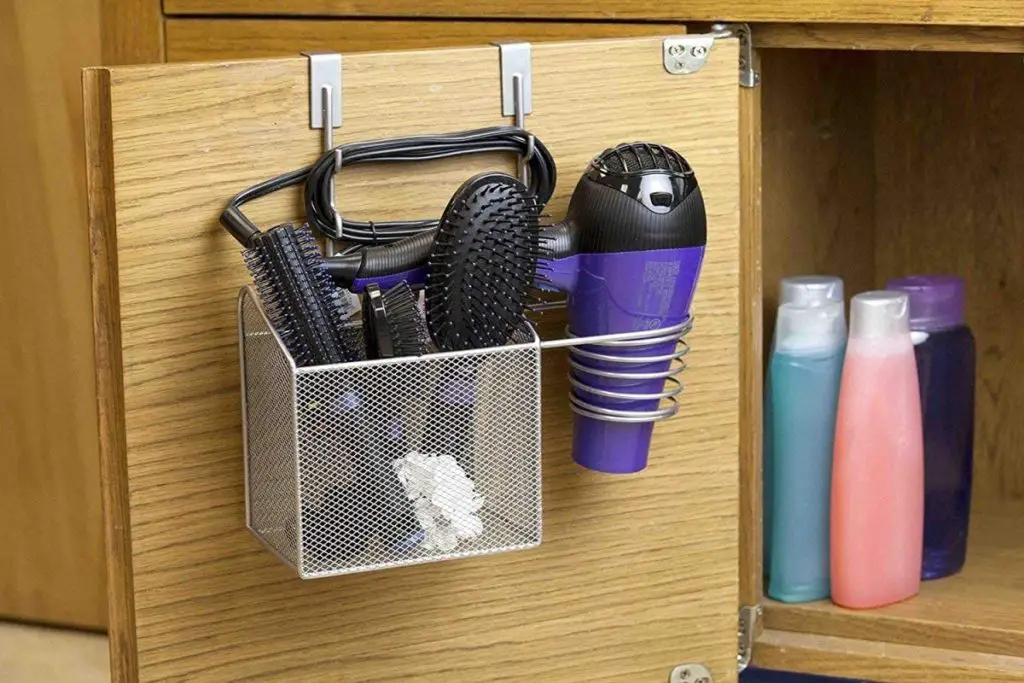 Shop on: Amazon
The clear plastic design trend is so very in right now, there is no reason not to hop on the bandwagon with some classy bathroom cabinet organizers. While they can be used for everything, they work especially well for hot tools and brushes. They don't scratch, they are easy to clean, and look so good.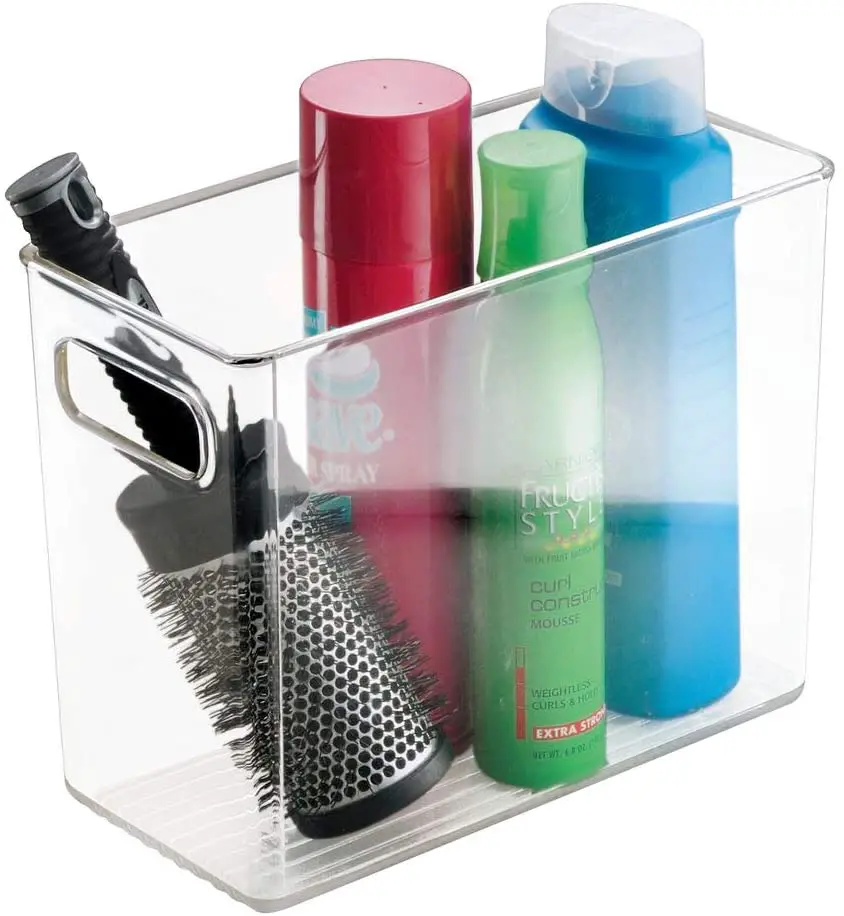 Shop on: Amazon
This slide-away storage solution is simply beautiful and so functional. It is installed into the bottom of your cupboard and then slides out for easy access whenever you need it. It's accessible, its bamboo-stained wood and it works well for any size of shape of hot tool.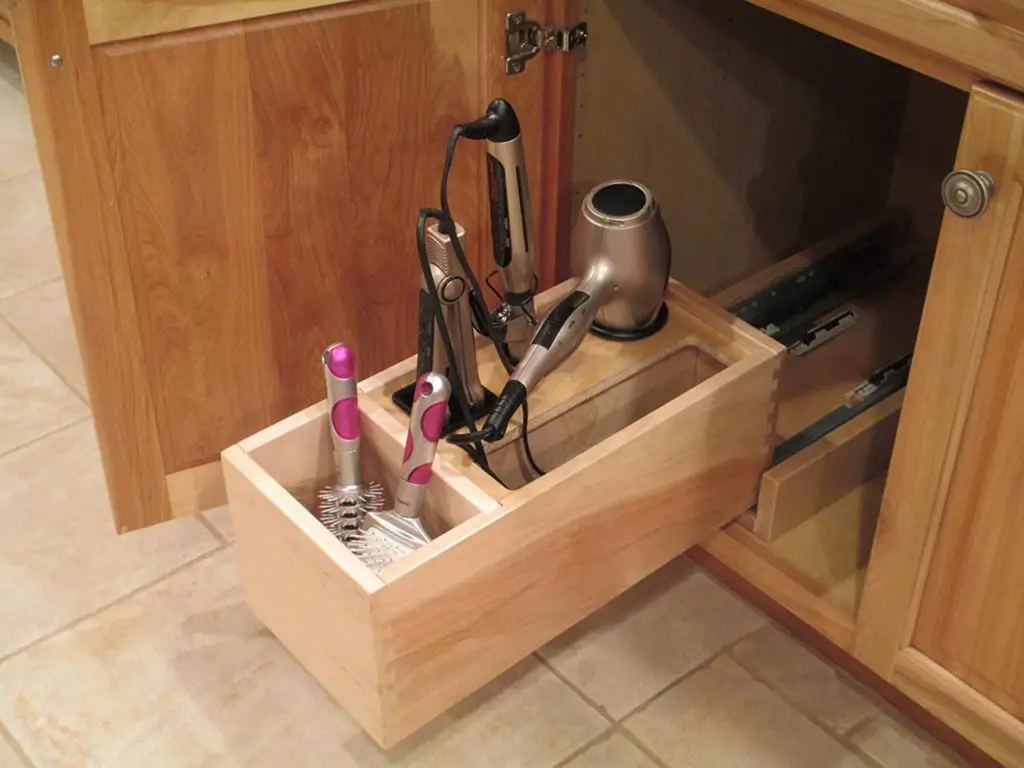 Shop on: Amazon
This organizer looks professional level and is high-quality steel that will hold everything you need to store. It can handle heat and any shape of products or brushes. The well design and wall-mount style keeps it out of the way but useful for all kinds of necessities. 
Shop on: Amazon
This stylish shelf is both a towel rack and a storage shelf. It will hang a few products, a ring holder, and a blow dryer/heat tool rack. Perfect as a mainstay in your bathroom, cute enough to leave up and functional to serve its purpose.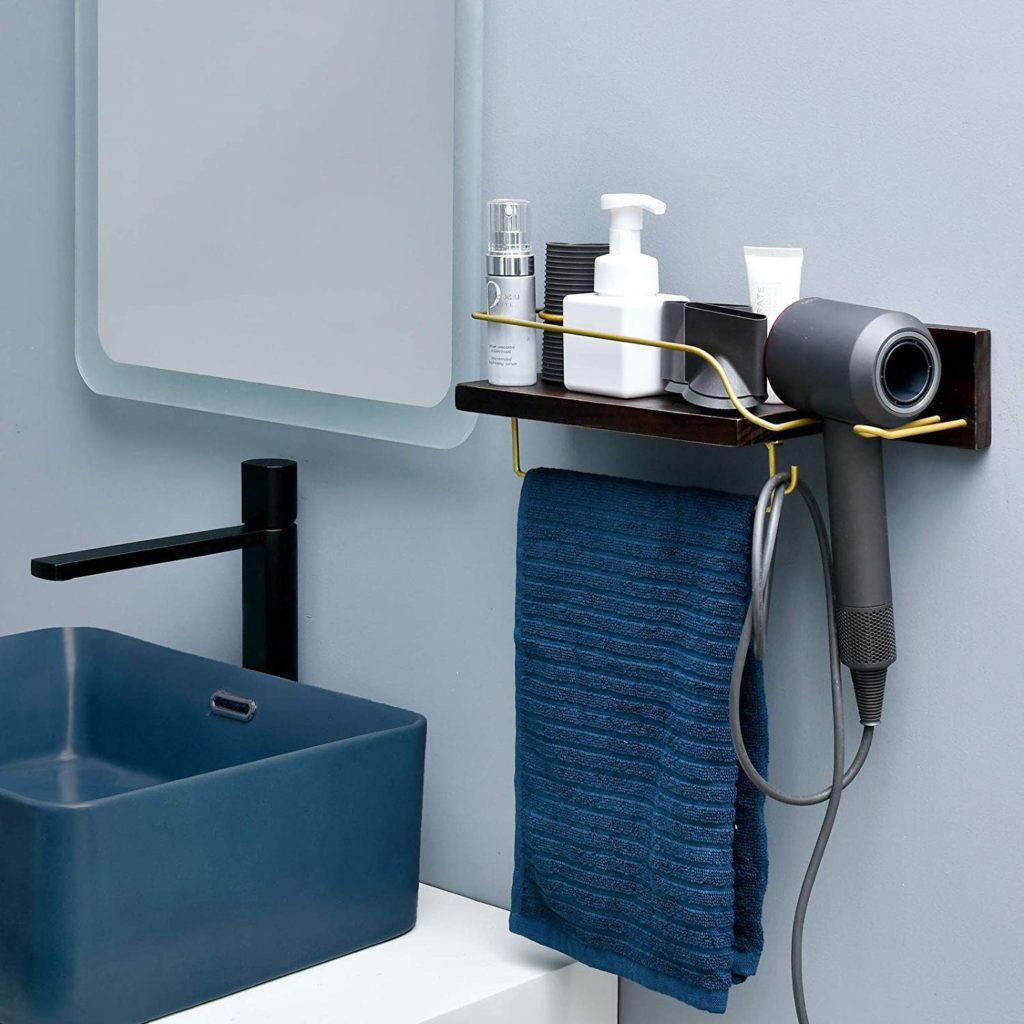 Shop on: Amazon
This Pinterest-worthy personalized hair tool and accessory organization station is so cute and ready for anything you need to store in it. With 3 openings for storing your hair tools such as hair dryers, curling irons, flat irons, and straighteners, two large storage bins to hold all your hair products, brushes, lotions and other accessories and a front drawer.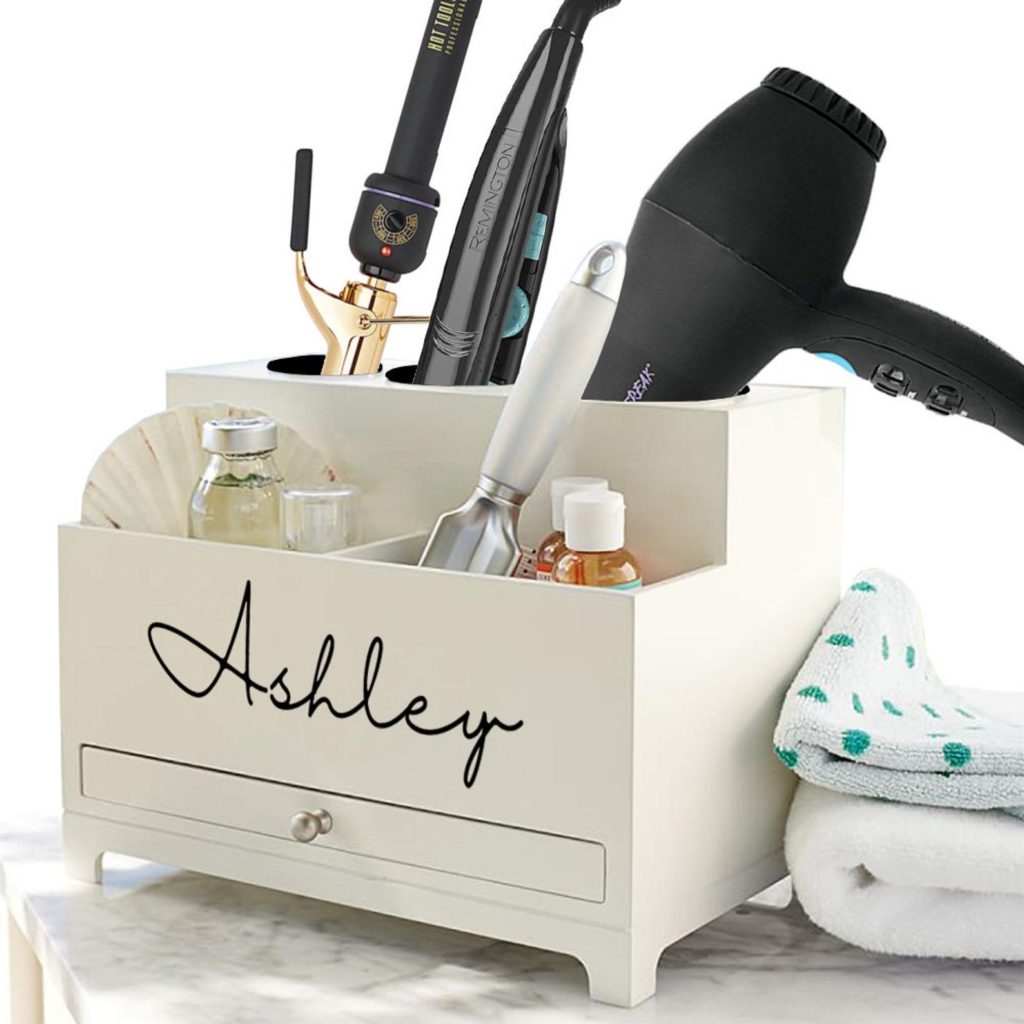 Shop on: Etsy
This wall hanging hair dryer is multi-functional and provides tons of extra space for your things. It also offers a rack to holster your blow-dryer at hair level so that you can simply leave it towards you. Multitasking at its best.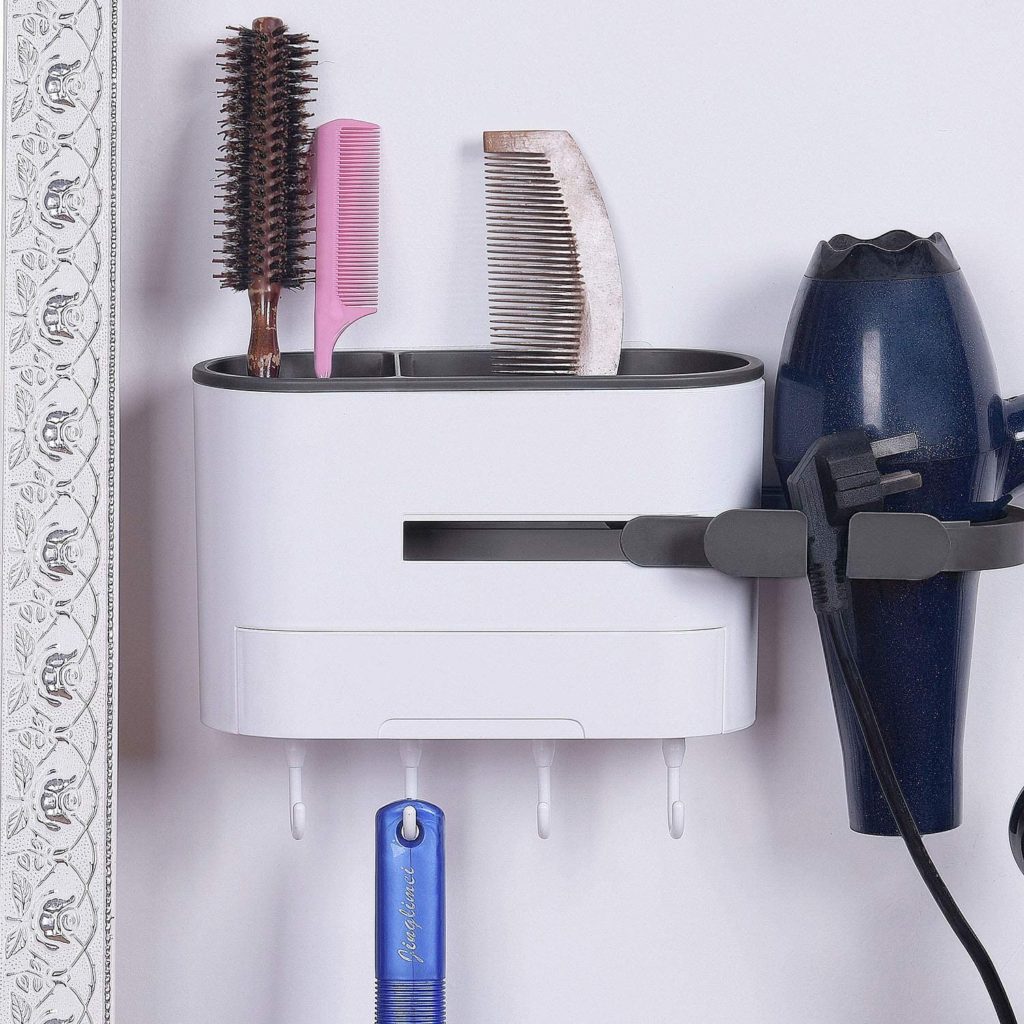 Shop on: Amazon