Last Updated on September 18, 2021 by Kaden
So, you have decided to host your first virtual party, how exciting!!!
Virtual parties are becoming a hot trend these days, how awesome is it that these days you can easily move this traditional shared experience online and have fun with your friends when everyone is in the comfort of their own home.
In this post, you will find everything you need for planning an unforgettable virtual party games night. These games Ideas and activities listed below are suitable especially for adults, so, stay tuned and follow the guidelines and preparations on the way to creating the perfect virtual party.
Before we dive in, I'm sure you're already heard about video conferencing tools such as Zoom, Houseparty, and Google Meet, just peak your favorite one and let's get this party started!
* Planning Virtual Halloween Party for the Whole Family? for Fun Games and Activities Ideas Click Here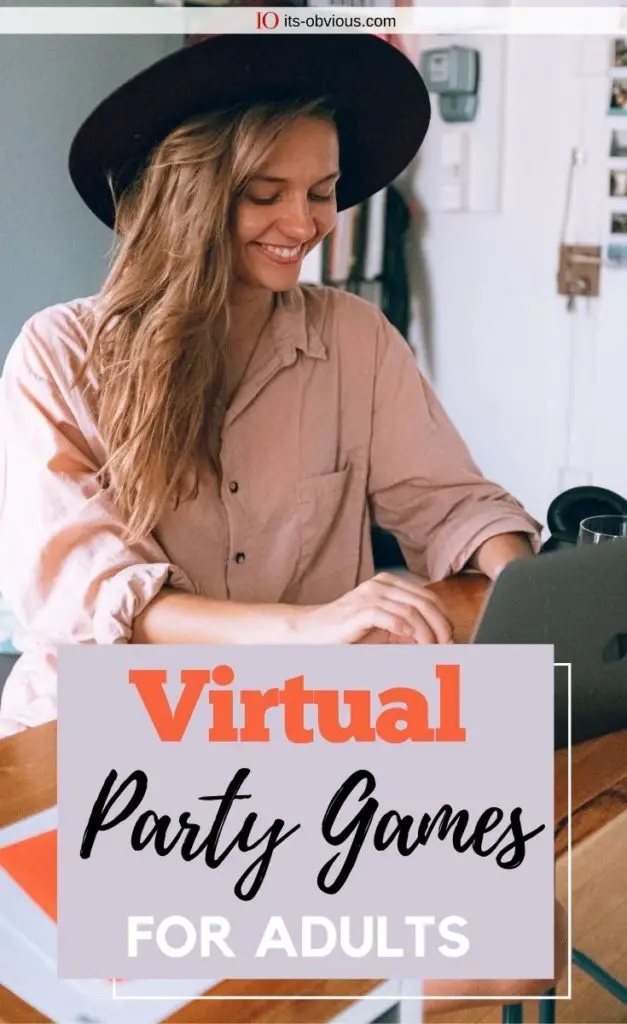 First Thing First – Adults Virtual Party Games Preparations and Guidelines
1. Location is Everything Or in our case, Everywhere. As a host, you get to plan this virtual party, so, choose a video conferencing platform ahead of time and sand an invitation with the party link.
2. Be clear by Including the party details. Be creative, you can send a video invitation with themed music so your friends will get super excited.
3. Dress Up! or, suit Up! In any case, don't show up in your pJ's.
4. Part of the virtual party line-up includes Props As you will read below. Make sure everything is ready for tonight's programs and this includes booze for the drinking games and for good vibes.
I hope you like these products! Just so you know, i may receive commissions on purchases made from the links on this page. Thank you if you use our links, i really appreciate it!
6 Exciting Games Ideas for Your Upcoming Adults Virtual Party 
#1 Most Likely
Pick a fun themed categories of 'most likely', start a question with, Who is most likely to? for example "who is most likely will end the evening when he is drunk and vomiting"? or "Who is the most likely to survive a zombie apocalypse? Each guest makes a secret decision/ the host starts the count down. In the end, all guests shout out the name they chose.
#2 Virtual Scavenger Hunt
This, At Home, Scavenger Hunt virtual adult version is so hilarious. Just be creative and pick the most embarrassing items you can think of.
Gameplay:
1. Each round one of the guests will pick an item and show it to the other guests.
2. All other players must rush and find an identical or similar item in less than 60 seconds to win a game point. Here's another good reason to drink a whip of vodka – Loose the clock? Drink! 
3. In order to count down the points, download this Scavenger hunt sheet with more ideas for particularly embarrassing items to hunt.
Another option – Virtual Scavenger Hunt digital download
#3 Play Scary Movie Trivia
The web is flooded with horror movies and zombie apocalypse movie quizzes, pick one that you all watch and loved, Surely one of the guys tends to brag about his extensive knowledge about series like Game of Thrones. Play together and compete, who has more knowledge. Yet, another drinking game.
Horror Movie Trivia Printable Game – digital download
#4 Watch Party
Watch a movie or other content together at the same time as your friends. Share real-time experiences including video chat, it's going to be fun hearing your friend's screaming all together when watching your favorite horror movie.
#5 Dance-off Choreography Competition
This is totally the best way to make your virtual party guests get up on their feet and start dancing. Choose for each of the guests a song that has a familiar theme dance, so that guests can prepare and learn the chirography in advance. During the party, each guest or a few guests together will perform the dance choreography. Get ready for some awkward hilarious moments.
#6 Karaoke
Another fun way to make this karaoke virtual party as real as possible and truly experience it together. You can find karaoke versions on YouTube or use dedicated websites like Karafun for free. Sing along with the lyrics and, of course, add your friends with a video conferencing private link.
#7 Virtual Escape Room
Zombie-themed game with 12 puzzles. This game will take your evening to another level of fun!
Watch the trailer – HERE
Digital download – HERE
You may also like Adult Quarantine Games Bundle digital download