Last Updated on September 19, 2021 by Kaden
The holiday season is coming and it's just the perfect time to start planning a fun family party for all ages. This year's party will be more of a virtual celebration than ever. In this post, you will find all the information on the most important question of all, how to plan a virtual Christmas party with games and activities for the whole family, one that will suit both children and adults, all three generations.
So, if you are dreaming of a perfect family holiday party that will also include those who are not with you, it is time to move online and plan a virtual gathering.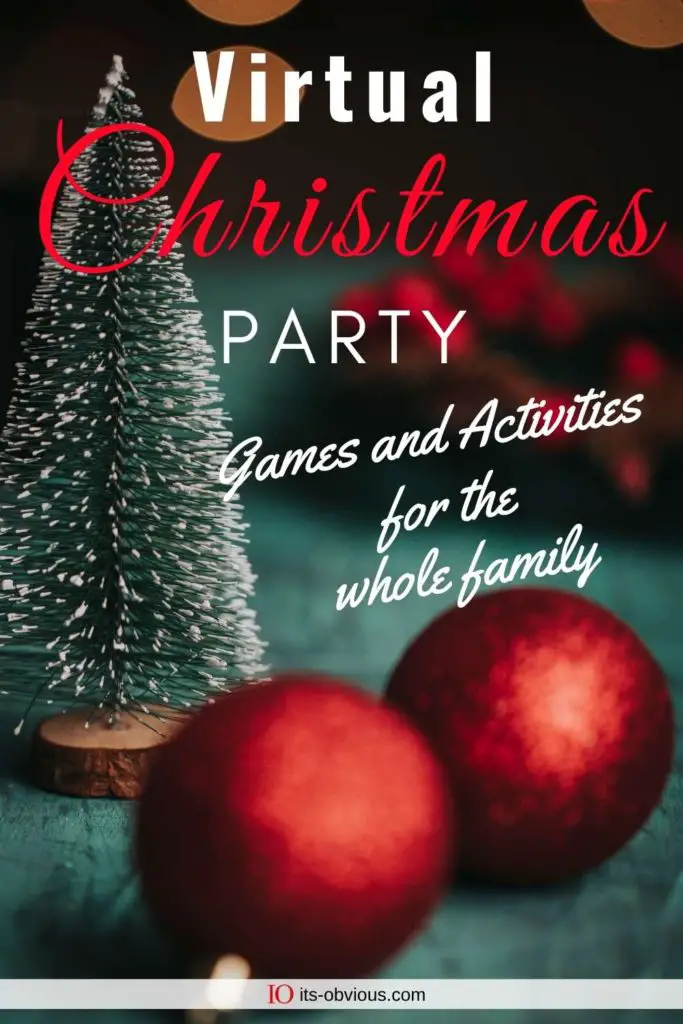 How to Host a Virtual Christmas Party for the Whole Family
Just before we start, if you still do not have a favorite video calling app it is important that you choose one, so you will be able to watch and stream to your family and friends wherever they are. With today's technology, fortunately, we can all have a real fun time together.
I hope you like these products! Just so you know, i may receive commissions on purchases made from the links on this page. Thank you if you use our links, i really appreciate it!
RELATED: Virtual Party Games and Activities for Adults
Here are some guidelines, tips, and points to think about
1) Do not wait for the last minute! It would be nice and fair to invite everyone to join your Holiday party in advance.
Make it fun and festive: You can send a traditional invitation like Christmas Invitations with a photo or use this FREE online invitations service – Minted, including all your party details (More on that below).

The most important thing is to be creative, so video invitations are also a great idea, combined with Christmas theme music. 
2) Your party link is essential, remember to add it to your event invitation along with an accurate start time so guests "arrive" on time.
3) Dress Up! It's party time! You are the host and even though you are in the comfort of your home it's important that you spread the holiday spirit and dress accordingly.
4) Set the vibe with a premade holiday-themed party music playlist as well with the Christmas decorations especially the backdrop – the area that the camera sees.
5) Set an end time. In my experience it is very important to end the party with a fun activity like a song that everyone sings together or a greeting from the host, It creates a good vibe as opposed to a faltering ending I myself experienced when my nephews started to lose patience and their parents struggled in a desperate attempt to force them to cooperate.
5 Exciting Games and Activities for Your Upcoming Family Virtual Christmas Party
Christmas traditions say hello to the 2020 – Everything Online! In the following lines, you will find games and activities that have been re-created for the new environment of virtual Christmas party family gatherings. Here we go!
I'm really trying to plan a special holiday program that will make everyone happy, so if you have an idea for an old/new tradition that might fit, feel free to add it in the comments area.
RELATED: 10 Awesome Christmas Gift Basket Ideas for Couples
#1. Online Carol Choir Singing
This traditional activity can be done easily from home.
1. Make a list of Christmas songs.
2. Edit a file with the song's lyrics and send it to your guests.
3. Ask everyone to practice some.
4. Play the music and broadcast it.
Popular family Christmas songs playlist – watch it now
You can also get this Christmas Song Game (digital download) on Etsy
#2 Bake Christmas Cookies
So, Who is the best baker in the family?
Whoever it may be, maybe the hostess herself? Find the perfect recipe and send it to guests for a shared baking experience. Watch how the whole family is baking together with the same recipe in real-time. We will wait for the delicious results.
Check out this easy and delicious Christmas cookies recipe
#3 Decorate A Gingerbread House
Another Christmas classic tradition encourages us to express our creative side by decorating gingerbread houses. In my opinion, the favorite festive part for children is, of course, playing with food so I'm going to skip over the "make from scratch" part and just pick one of the endless themed Gingerbread House Decorating Kit.
#4 Christmas BINGO
With the help of social media, and especially Pinterest you can find plenty of ideas and even printable templates for your upcoming BINGO family Christmas game, and it's all free. You can also make your own Bingo card using myfreebingocards service. If you have planned the holiday party long enough in advance, you can print those cards by yourself and send them to your guests.
Another option – Christmas bingo cards digital download
#5 Christmas Watch Party
Watching Christmas movies is a wonderful family tradition especially at times when the whole family stays together comfortably and spends quality time. Nowadays the plus side is that you can watch together in a shared experience with family members that are in a distance. Make it a Christmas Watch Party and share real-time experiences including video chat so you'll be left and moved by together. 
Another option – Christmas Movie EMOJI Challenge digital download
You may also like: Christmas Scavenger Hunt digital download