Last Updated on November 10, 2021 by Kaden
It is no secret that this 2020 holiday season has looked different than most. This time of connection and family gatherings is being separated by a stay at home orders and social distancing. That famous New Year's Eve party bash that you throw every year looks like it is going to have to be canceled. Or does it? 
You can still throw that wild NYE party this year. You'll just have to do so, virtually.
There are so many ways you can spice up a virtual party. Below are my five tips to make your virtual new year's eve party celebration the best it can be.
 I may receive commissions on purchases made from the links on this page at no cost to you.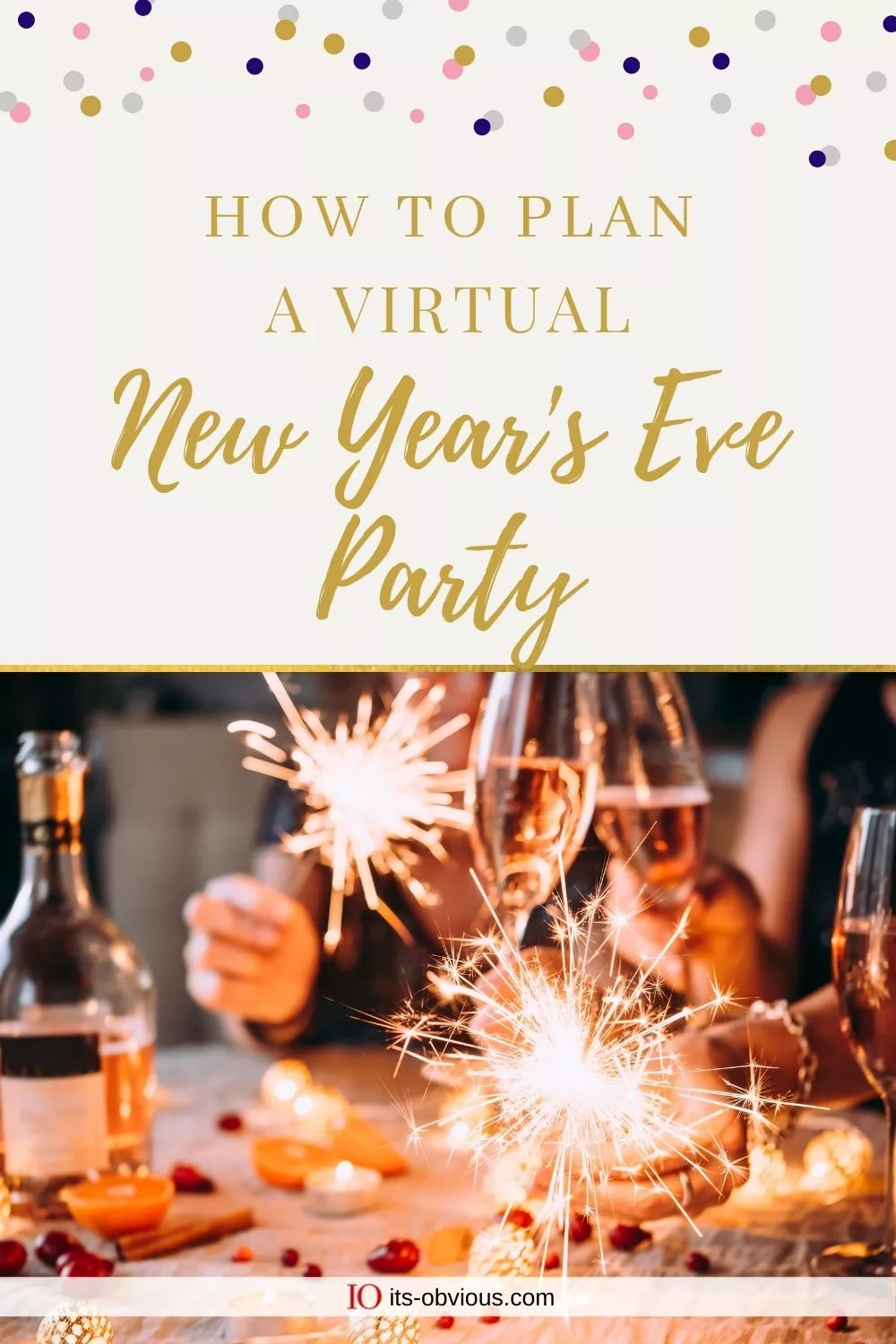 Tips For Throwing a Virtual New Year's Eve Party
Pick a theme and let everybody know about your virtual NYE party. To get them all excited, send invites and consider going the extra mile with a party box filled with fun props. Festive attire, happy music, and the ball drop countdown it's what make a great New Year's Eve Party.
1. Pick a Party Theme  
Every perfect New Year's Eve party has a wild and exciting theme, therefore your virtual New Year's Eve party should be no different. Stick to the 1920s theme that so many used last year or go for more humor and take a funny spin on the pandemic by dressing up as an actual covid virus. Pick a theme that is fun for everyone and opens up for some creative execution.  
Check out this awesome New Year's Eve themes ideas
2. Send Your Invitations Early 
Not too many people know what their NYE plans will be this year. That is why you need to swoop in and save the day. Not only will sending out your invitations early get you ahead of the crowd, but it will give so many people something wonderful to look forward to on this bizarre NYE.  
You can use the Minted FREE online invitations services, which offer a wide range of designs it allows your guests to RSVP online through email invitation and much more.

Another option – Zoom themed NYE Editable Party Invitation Digital Download

* Remember to add your zoom, or any other video app, party link along with the start time so guests "arrive" on time.
3. Mail Out a Party Box
This is one of the more fun and innovative virtual party ideas that has come out of this whacky year. Put together individual party boxes for each of your guests that you can mail out or drop off at their homes.
Fill these boxes with a mini champagne bottle, poppers, noise makers, and a 2021 banner. The contents of these boxes should be almost everything they would have been able to get their hands on if the party was in person.  
You can also get this New Year's Eve Mini Party In A Box on Etsy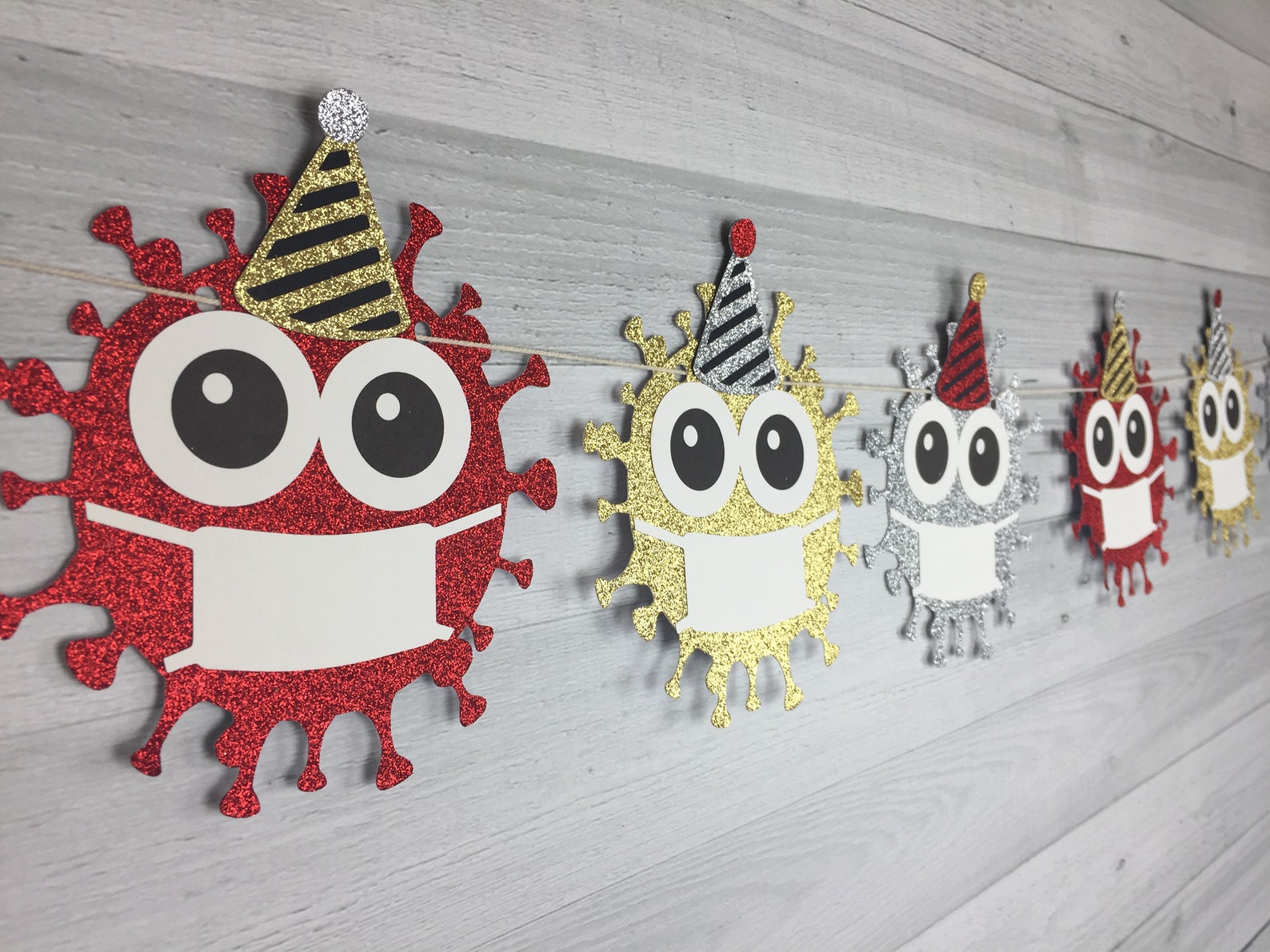 Glitter Quarantine Garland By ktbluecreations on Etsy
* Planning an Adults Virtual Party?
For Fun Games and Activities Ideas Read This Post
4. Tell Everyone to Dress Up
No excuses! I don't care that you are all still sitting in front of a computer screen in the comfort of your own  home. Get yourself all dolled up just as if you were actually attending the best bash in person. Curl your hair, slap on some makeup and put on an outfit that makes you feel confident! If your party has a theme, dress up for  that. Either way, don't just wear those sweatpants you've had on for two months straight! Putting a little effort  into your attire makes all the difference for you and your guests.
5. Watch the Ball Drop
Make sure you can share your computer screen so you can all watch the ball drop together. Countdown the  numbers, grab those noise makers and poppers that were mailed out in those party boxes, and ring in the new year just like you normally would.
Everyone is excited to say goodbye to this traitorous year and the circumstances of our current conditions should not stop you from saying goodbye with a BANG. Although it may not seem like it, these virtual gatherings work wonders for keeping people feeling connected and loved.  
Another option for fun Activities: New Years Eve Party Bundle digital download
So, throw that virtual party! And say goodbye to 2020!