Last Updated on April 13, 2022 by Kaden
If you are reading these lines then it is safe for me to assume that you are already using Essential Oil Diffuser, so let's skip the long introduction detailing the benefits of this amazing product and go right to our topic- essential oil diffuser blends recipes.
Before you begin to formulate essential oils blend from your own, here are some tips to help you figure out which mixes are right for you. First, ask yourself what would you like to get from your essential oils blend? If you want your home to smell wonderful all day long or passionate about the health benefits that essential oils have to offer we've got you covered. 
You'll probably be happy to know that each of these oils has its health benefits, some oils recipes can help us with a good night's sleep while others focused on gathering the energy we need to start our day or workout. They can also help reduce sinus pain and prevent the symptoms of seasonal allergies and migraines.
Here are my favorite recipes for essential oil diffuser blends you can make at home.
I have arranged these recipes into Four Categories: 
– Pain Relief and Allergy Relief Oils Blends
– Essential Oils Blends That'll Make Your House Smell Amazing
– Better Sleep and Easy Waking Essential Oils Blends
– Relaxation and Calming Essential Oils Blend Recipes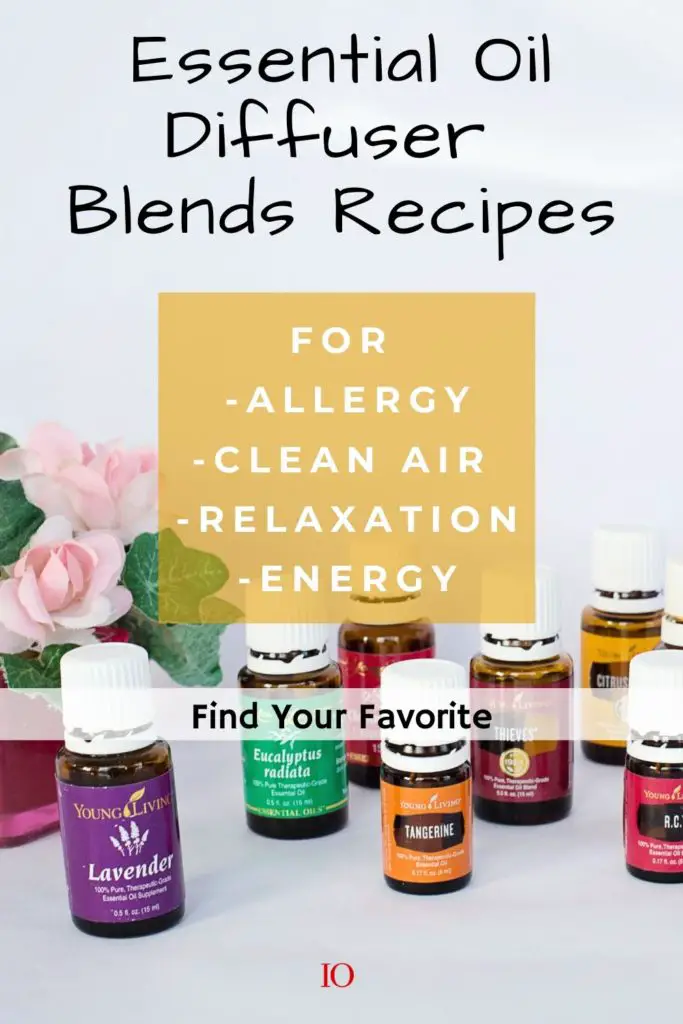 I hope you like these products! Just so you know, i may receive commissions on purchases made from the links on this page. Thank you if you use our links, i really appreciate it!
Pain Relief and Allergy Relief Essential Oils Blends
Essential Oil Blend for Seasonal Support – Allergy Relief
– Lemon essential oil – 3 drops
– lavender essential oil – 3 drops
– Peppermint essential oil – 3 drops
Sinus Soother Diffuser Recipe Blend
– Eucalyptus essential oil – 2 drops
– Peppermint essential oil – 2 drops
– Helichrysum essential oil – 2 drops 
– Lemon essential oil – 2 drops
Essential Oil Diffuser Recipes for Headaches
– Lavender essential oil – 2 drops
– Peppermint essential oil – 3 drops 
– Frankincense essential oil – 2 drops
– Lemon essential oil – 1 drop 
– Basil essential oil – 1 drop
Essential Oil Diffuser Recipes for Anxiety
– Lavender essential oil – 3 drops
– Clary sage essential oil – 2 drops
– Ylang ylang essential oil – 1 drop
– Marjoram essential oil – 1 drop
---
Essential Oils Blends That'll Make Your House Smell Amazing
Fresh and Clean
– Lemon essential oil – 1 drop
– Lime essential oil – 1 drop
– Grapefruit essential oil – 2 drops
– Tangerine essential oil – 2 drops
Essential Oil Diffuser Recipes for Clean Air
– Lavender essential oil – 3 drops
– Eucalyptus essential oil – 3 drops
– Rosemary essential oil – 3 drops
– Orange essential oil – 3 drops
Summer Oil Diffuser Blends
– Lemongrass essential oil – 3 drops
– Orange essential oil – 2 drops
– Peppermint essential oil – 1 drop
Essential Oil Blend that Smells Like Rain
– Douglas fir essential oil – 3 drops
– Cedarwood essential oil – 2 drops
– Frankincense essential oil – 2 drops
– White fir essential oil – 1 drop
– Ylang ylang essential oil – 1 drop
---
Better Sleep and Easy Waking Essential Oils Blends
Essential Oil Blend for Good Night Sleep
– Lavender essential oil – 4 drops
– Stress away essential oil – 2 drops
– Cedarwood essential oil – 2 drops
Essential Oil Blend for Morning Energy
– Grapefruit Essential Oil – 2 drops
– Lemon Essential Oil – 1 drop 
– Peppermint Essential Oil – 1 drop 
Essential Oil Blend for Working Out
– Peppermint Essential Oil – 2 drops
– Orange Essential Oil – 2 drops
– Grapefruit Essential Oil – 2 drops
---
Relaxation and Calming Essential Oils Blend Recipes 
Essential Oil Diffuser Recipes for Meditation
– Frankincense Essential Oil – 4 drops
– Helichrysum Essential Oil – 4 drops
– Sweet Orange Essential Oil – 2 drops 
Essential Oil Blend for Spa Day
– Lavender Essential Oil – 2 drops
– Bergamot Essential Oil – 2 drops
– Eucalyptus Essential Oil – 2 drops
– Peppermint Essential Oil – 2 drops
– Orange Essential Oil – 2 drops
– Ylang-Ylang Essential Oil – 2 drops
* For 10 Best Tools for a Spa Day at Home – Click Here
*Hey, you guys! keep in mind, this post contains affiliate links. If you purchase a product or service with the links that I provide I may receive a small commission. There is no additional charge to you! Thank you for supporting my blog so I can continue to provide you with helpful tips for a healthy life (: